His greatest dream was to be a Marine, and the family of Lance Cpl. Leopold Damas took solace in that as they bid farewell to him Saturday.
Music and prayers filled a Queens church as mourners said goodbye to Damas, who was killed in Afghanistan two weeks ago.
Friends and family at St. Joachim and Anne Church in Jamaica remembered the 26-year-old as "determined, capable and brave."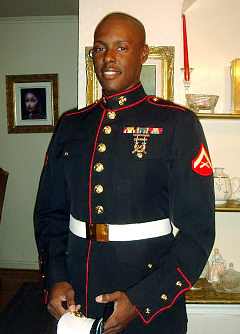 "Although it hurts, he was doing something he loved," said his older brother Gerard Damas, 37. "He was exactly where he wanted to be. He had no fear."
Damas was fighting militants in Helmand Province, a Taliban stronghold, when he was killed Aug. 16 - the fourth U.S. service member from New York City to die in combat there this year.
A Haitian immigrant, he joined the Marines after graduating from Newton High School in Elmhurst.
"He pursued his dream and he was able to live it," his brother said. "Most people live their whole lives trying to do that and he did it."
Danielle Vincent, a family friend, remembered the young man everyone knew as Leo as a "beautiful kid."
"He never got into trouble. He was a nice boy, very respectful. He would always come and hug you and kiss
you," Vincent said.
"It is so sad. He was so young."
Damas enjoyed sports and video games - but his real passion was the military.
"He loved the Marine Corps, I can tell you that," said Marine Cpl. Leston Greenidge, 23, of Brooklyn, who served in Iraq with Damas.
"He was devoted to the Marines. I hope the American people appreciate what we're doing, because it is a sacrifice," he said. "It's a hard thing."
Damas, who served with the 2nd Battalion, 8th Marine Regiment and did two tours in Iraq before going to Afghanistan, will be buried near his home in Charlotte, N.C.
"He represented the best of young people who really wanted to make a difference," said Councilman Leroy Comrie (D-Queens). "Our hearts go out to him on behalf of the entire city."
Damas' mother, Carole Bolanc, was distraught as her son's flag-draped coffin was carried from the church.
His father, Gerard Damas Sr., passed away 18 years ago.
"I'm not angry," she said of his death. "I love that my brother was a Marine and that he believed in serving his country."