Dominican Republic pays tribute to Haiti for Liberating the entire island from slavery. Haitian people are just amazing for their accomplishments. Haitians are the beacon of freedom for the entire humanity.
BY PASTOR VASQUEZ (Translated from French)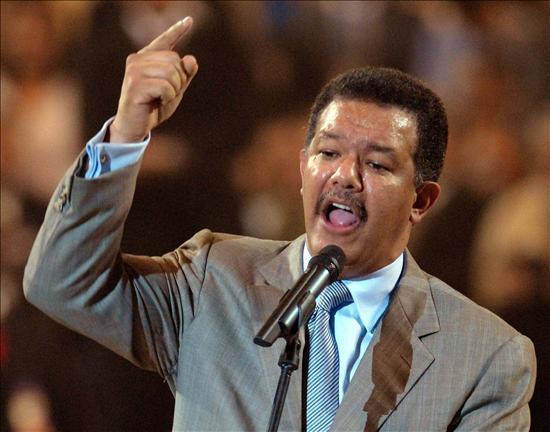 The president of the Dominican Republic Leonel Fernández raised his voice in Spain (commonly called the Motherland by the Latin Americans) so that Haiti, our closest neighbor, is included in the Latino-American community.
The president of the Dominican Republic underlined that it would be an act of historical reparation to include Haiti in the Latino-American Community, owed, among other reasons, because it was the nation which marked the best example of abolition of slavery for the first time, with the revolution of the slaves which Toussaint Louverture had begun before the Haiti's Independence which was proclaimed in 1804 by Jean Jacques Dessalines.
President Fernández had underlined that the island Hispaniola was legally the possession of Spain until 1795 when the convention of Bale was signed, although in 1606, when the governor Antonio D' Osorio deforested the West party, Spain did not any more have interest on this part of the territory.
In the Spanish party of the island there was not racial revolution, as in the case of Haiti, for reasons which do not need to be now clarified, but Spain cannot break loose from its historical responsibility in the fierce and brutal slavery against which the slaves struggled so that the west party of the island becomes what they know as Haiti today, because Spain was the one that introduced and spread the seeds of slavery and slave trade throughout the whole island at the beginning of the XVIth century.
To include Haiti into the Latino-American summit would be not only a historical reparation but also recognition to a people that is the symbol of struggle against slavery.
The voice of President Fernandez had an echo resounding in various international forums. The first state leader to be pronounced in favor it is president Daniel Ortega of Nicaragua, who said that Haiti is located in Latin America and that it has a very close rapport with the Latin-American world and it deserves full integration in multilateralism.
Let us say that in August of the 2008, the Vice-President of the Spanish Government, María Teresa Fernández de la Vega had visited both countries of the island and she had promised a broader collaboration of Spain towards Haiti which includes hundred million dollar donation in the plans of development for the years to come.
The proposal of the President Leonel Fenandez could not be more timely, because hours later the General Secretary of United Nations had announced the nomination of the former U.S. president Bill Clinton as special Envoy for Haiti.
Released and signed by:
HECTOR PASTOR VASQUEZ FRIAS
Counselor Minister
Dominican Embassy, Haiti