Last week, the President's Council of Advisors on Science and Technology, a group of the nation's leading scientists and engineers, released a report on the H1N1 flu virus. The forecast seemed grim.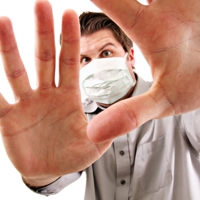 A more aggressive mutation of the virus, they said, could infect 30 percent to 50 percent of the population, lead to as many as 1.8 million hospitalizations and cause between 30,000 to 90,000 deaths compared to the annual number of 36,000.
Yet to Dr. Philip Alcabes, an epidemiologist and professor at Hunter College School of Health Sciences in New York, the estimate is a "plausible scenario," not a prediction.
"Should the public be alarmed?" he says. "Absolutely not." Besides, it's impossible to know whether the virus will mutate until the day it happens.
In Pictures: How To Fight The Flu This Fall
Jean Gallagher, a 46-year-old alumna of St. Francis Preparatory School in Fresh Meadows, N.Y., which was the epicenter of a New York City H1N1 outbreak of this spring, says she's not concerned about contracting the virus this fall. Gallagher, who is on leave from her job as a professor of English at the Polytechnic Institute of NYU, says she'll get her one-and-a-half-year-old daughter, Maggie, vaccinated this fall and wash both of their hands frequently, but plans to take no additional precautions.
"It's so good for me not to hear things like that," says Gallagher, referring to the PCAST report.
Thus far, the virus, which was called "swine flu" during an outbreak last spring, has led to 7,983 hospitalizations and 522 deaths in the U.S. The World Health Organization has confirmed 1,799 fatalities and more than 182,000 cases worldwide. By comparison, the seasonal flu infects 250,000 to 500,000 people annually.
In recent weeks, the Centers for Disease Control and Prevention announced a series of guidelines for businesses, educational institutions and the general public. The agency recommended, among other things, encouraging social distancing, planning for absenteeism at work and screening employees for signs of illness.
Such guidelines are helpful, says Alcabes, but too many of them can create a "barrage of preparedness rhetoric." And while the public should be mindful of prevention and treatment strategies, they should avoid alarmist hype. A handful of simple steps can help ward off illness.
Get Vaccinated
One of the best ways to prevent contracting the flu is to get immunized each year. This fall, the public will have access to the standard flu vaccine in addition to an H1N1 version, which is in the final stages of clinical testing; the CDC expects to make between 45 and 52 million vaccines available by mid-October and 195 million by end of the year. Health officials are urging the public to receive both immunizations.
The H1N1 vaccine will be available through public health departments, school and community health clinics, doctor's offices, pharmacies and at the workplace. Currently, the CDC recommends prioritizing vaccinations for those betweens 6 months and 24 years of age, a strategy that assumes 59 million H1N1 cases and 139,000 deaths. It is expected to cost $67 billion.
However, an article published in Science in late August argued that vaccinating school-age children and adults between 30 and 39 would result in 15 million fewer infections, 31,000 fewer deaths and save $14 billion.
Regardless of how the vaccine is distributed, public health officials agree that immunizations will contain the spread of both flues, minimizing the number of people who become ill, are hospitalized and die.
Source: FORBES