LONDON (AP)
- Lurching from one defeat to another, Diego Maradona is in danger of becoming the first coach in 30 years to fail to get Argentina to the World Cup.
The 3-1 defeat at home to Brazil left his team way behind the Brazilians, Chile and Paraguay and hanging on to the fourth automatic qualifying spot from South America with three rounds to go.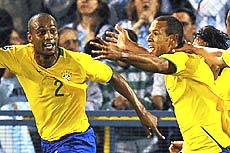 It also appeared to provide more evidence that one of the game's greatest players - some say the greatest - is no coach.
Maradona may be an inspirational figure, hugely popular among his countrymen and revered as a great player by the stars now under his command.
But he doesn't get results, and that's what coaching is all about.
Saturday's defeat to its traditional rival came after a 2-0 loss to Ecuador, and Argentine fans still shudder when recalling a 6-1 loss to Bolivia in April.
Maradona tried to remain dignified and calm after the loss to the Brazilians in Rosario. He awaits another huge test, a visit to third-place Paraguay on Wednesday.
"It's going to be tough," he said. "It will be more difficult because of today. These things happen in football. This won't break me."
If his team loses to Paraguay and both Colombia and Ecuador win, then Argentina will drop to sixth in the 10-nation qualifying group with two games to go. That would mean it might even miss out on a playoff spot that goes to the fifth-place team.
Even the most die-hard Argentina fans might not forgive him for that.
They stood by him when he twice served suspensions for doping, during the times Maradona was overweight and then close to death after cocaine abuse, when he was threatened with jail after firing an air gun at reporters from his home, and when he ran into major tax problems.
They recall how he brought the World Cup title home in 1986 with his mesmerizing dribbling skills and laughed with him after his infamous "Hand of God" goal against England, when he fooled the referee by punching the ball into the net.
After getting over his health scares, Maradona was appointed national team coach in October when he replaced Alfio Basile, who stepped down after a loss to Chile.
His arrival was greeted with euphoria. But there was puzzlement too because of his lack of experience as a coach. He argued with the federation leaders because they wouldn't appoint the backup coach he wanted, Oscar Ruggeri.
Maradona had his favorite players and there were fears that his Boca Juniors bias might disrupt what was a hugely talented but rudderless squad of stars.
He fell out with the team's playmaker, Juan Roman Riquelme, who said he would never again play for Argentina while Maradona was coach. But Argentina had such a wealth of quality players it wouldn't miss Riquelme.
With the likes of Lionel Messi, Carlos Tevez, Sergio Aguero in the strikeforce, veterans Javier Zanetti and Juan Sebastian Veron and Javier Mascherano in midfield in front of a rock-solid defense, a good coach can't really fail to get this team to the World Cup.
But the team needs leadership, and Maradona seems to be a name rather than a coach.
His contract runs until the end of the 2010 World Cup in South Africa. The way things look now, neither he nor his team will be there if Argentina is caught by Ecuador and Colombia.
At the moment, Maradona needs the coach's equivalent of one of those mazy, end-to-end dribbles that brought him two of the most spectacular goals in World Cup history against England and Brazil. Sitting on the bench, he can't even conjure a "Hand of God" goal this time.
Source: Fox Sports