(MYFOX NATIONAL) - Standing at over 8 feet, the Guinness Book of World Records has declared a 27-year-old Turkish man as the world's tallest. Sultan Kosen measures 8 feet, 1 inch. His height is attributed to a condition known as pituitary gigantism.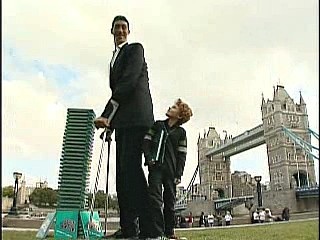 Kosen says the downside of his unusually tall stature is that he finds it difficult to squeeze himself into a taxi, and his clothes have to be specially made to fit.
He also has to use crutches to get around, because his knee joints have been weakened by his height.
With the new title Kosen hopes to indulge himself a bit. "The first thing I want is a car I can fit into," he told the UK Times . "More than that, I want to get married. It's really difficult to find a girlfriend. They are usually scared of me."
The previous record holder is Ukrainian Leonid Stadnyk. He reportedly measured 8 feet, 5.5 inches. Stadnyk was stripped of his title when he declined to let anyone confirm his height.
Guinness officials say only 10 humans have ever grown above 8 feet.
The world's shortest man became a semi-celebrity after gaining the official Guinness title. Pingping , the world's shortest man is 22 years old, stands at just 2 feet, 5 inches and weighs about 15 pounds.