By KWANG-TAE KIM, Associated Press Writer Kwang-tae Kim, Associated Press Writer
SEOUL, South Korea
– Lee Sun-ok fled from North to South Korea to escape chaotic fighting during the Korean War, boarding a ship along with thousands of other people in December 1950. There was no time to say goodbye to her loved ones.
The 80-year-old widow arrived in North Korea on Saturday to meet two younger sisters and one younger brother for the first time in 60 years.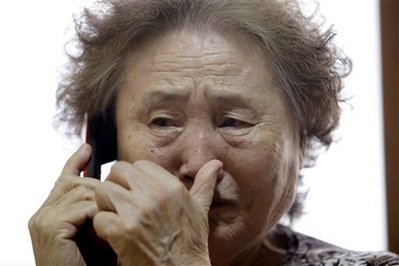 "I never thought I could see them again," an emotional Lee said in an interview Wednesday. "I can die after visiting the North with no regrets."
Lee is among about 200 families from both sides scheduled to hold six days of reunions with relatives they have not seen since the war ended in an armistice, not a peace treaty, in 1953, leaving the countries divided.
More than 120 South Koreans, most in their 70s or older, arrived at the Diamond Mountain resort on North Korea's east coast on Saturday for the reunions, according to the Unification Ministry handling inter-Korean affairs.
Millions of families remain separated following the Korean peninsula's division in 1945 and the ensuing civil war. There are no mail, telephone or e-mail exchanges between ordinary citizens from the two Koreas. Nor can they travel to the other side of the peninsula without government approval.
Family reunions began in 2000 following a landmark inter-Korean summit, but North Korea cut off most such programs after South Korea's conservative President Lee Myung-bak took office last year with a get-tough policy of holding North Korea accountable to its nuclear disarmament pledges.
The reunions were last held in October 2007.
North Korea agreed last month to resume the reunions as part of moves to reach out to South Korea and the United States after months of tension over its nuclear and missile programs.
So far, more than 16,200 Koreans have held temporary face-to-face reunions with relatives since they began. Some 3,740 others have seen relatives in video reunions.
The reunions come amid growing international pressure on the communist regime in Pyongyang to abandon its nuclear weapons programs and return to stalled disarmament talks.
North Korea boycotted the six-nation nuclear talks in April to protest world criticism of a rocket launch it carried out, but its leader Kim Jong Il has reportedly expressed interest in "bilateral and multilateral talks," indicating the North could rejoin the nuclear negotiations involving the U.S., China, Japan, South Korea and Russia.
South Korean President Lee Myung-bak said that North Korea must return to talks "with sincerity."
"If they are sincere, then we are ready to provide them with whatever is necessary," Lee said Friday in an interview with a small group of reporters at the end of the Group of 20 economic summit in Pittsburgh.
President Barack Obama told a U.N. General Assembly session Wednesday that North Korea "must be held accountable" if it continues to put its pursuit of nuclear weapons ahead of international security.
The reunions last through Oct. 1 and it remains unclear when they may be held again.
The meetings are a highly emotional issue in the Koreas. Most of those applying for the chance to see their long lost loved ones are in their 70s or older, and are eager for a reunion before they die.
Of 127,400 South Koreans who have applied over the year, nearly 40,000 have already died, according to South Korea's Red Cross.
South Korea wants to stage more family reunions on a regular basis and allow divided families to confirm whether their long-lost kin are still alive, but the North has balked at the request.
Lee Sun-ok married in South Korea, had two children and worked selling clothes in her own small shop. Still, she longed to see her loved ones in the North.
"I am fortunate to meet (my brother and sisters) before I die," she said. "They are always in my heart."
___
Associated Press writer Foster Klug in Pittsburgh contributed to this report.