Haiti: Honor and Merit
To commemorate the eleven soldiers from the UN Mission for Stabilization in Haiti (MINUSTAH) were killed in a plane crash UN weekend passed, a funeral was held this October 13th, 2009 at Camp Charlie, in Tabarre by UN officials in Haiti.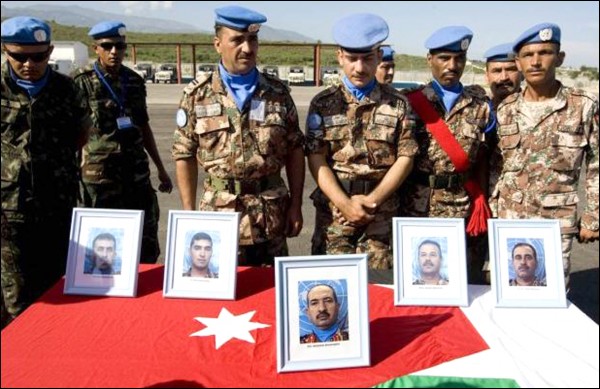 Approximately four days after the plane crash that killed October 9, 2009 at eleven soldiers of MINUSTAH, UN officials in Haiti have made a last tribute to the peacekeepers dead. The President of the Republic, René Préval, who attended the farewell ceremony, was posthumously awarded a national honor "Honor and Merit" in each of the eleven victims of the crash.
Mr. Annabi, the loss of these peacekeepers must not only strengthen the resolve of the UN Mission to implement its mandate in Haiti, but also ensure that their sacrifice, as well as civilians, police and military who have died serving MINUSTAH, have not been in vain.
Colonel Edima Guevara, commander of the Aviation Unit of Uruguay, has argued the same sense that his Jordanian counterpart, Colonel Mohammad Al-Mari. The work begun by the peacekeepers victims in full operation must, in their view, continue. This result somehow a way to honor them, they said.
The bodies of the victims, including 2 colonels Uruguayan, were recovered from the crash site since Saturday. Then they were transported to Port-au-Prince only to be repatriated, respectively Uruguay and Jordan, shortly after the farewell ceremony.
Eleven soldiers, six and five Uruguayan Jordanian, were killed during a reconnaissance mission along the Haitian-Dominican border, near-Fonds Verettes. The mission, according to MINUSTAH, falls within the framework of border management as one aspect of its mandate. An investigation has since been opened to determine the causes of the accident.
MINUSTAH currently about 1122 Uruguayan peacekeepers. Jordan, meanwhile, has a strong battalion of 712 soldiers and participates jointly with HNP, to air and ground patrols.
Several Government officials, including President René Préval and personalities of the diplomatic corps, the Special Representative of the Secretary-General Kofi Annan and head of MINUSTAH, Hedi Annabi, etc.., Attended the ceremony Tuesday Farewell.
Source: Lenouvelliste
Translation: Levanjiltv