By David Lawder
WASHINGTON (Reuters)
- The Obama administration on Monday launched a program to help the depressed U.S. housing market by effectively allowing state and local housing finance agencies to borrow from the U.S. Treasury.
The initiative, announced as new data showed a downturn in homebuilder sentiment, aims to restart a source of mortgage financing for first-time and low-income buyers that has been largely shut down by credit market gridlock.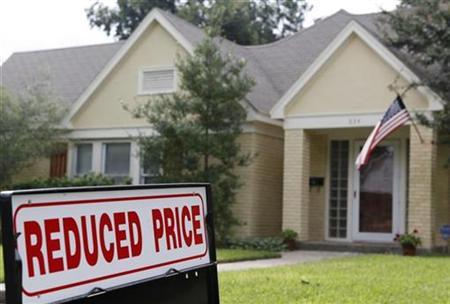 Described as temporary by the U.S. Treasury, the Department of Housing and Urban Development and the Federal Housing Finance Agency, the program will allow state and local agencies to issue bonds through government-sponsored mortgage finance giants Fannie Mae and Freddie Mac. Those bonds would then be purchased by the Treasury.
"Through this initiative, the administration aims to help ... jump start new lending to borrowers who might not otherwise be served and to better support the financing costs of their current programs," U.S. Treasury Secretary Timothy Geithner said in a statement.
The U.S. housing market, which was at the epicenter of the global credit crisis, has shown signs of stabilizing, but it has been bolstered by an $8,000 tax credit for first-time buyers that is set to expire at the end of November.
In a conference call with reporters, federal officials declined to estimate a dollar amount for the new program, but said it would be sufficient to fund "several hundred thousand" new affordable mortgages and provide for the development or rehabilitation of tens of thousands of rental units.
U.S. Treasury Assistant Secretary Michael Barr said officials would work to determine a bond issuance ceiling for the program over the next several weeks.
"The program levels are really being built from the ground up so we need to have a much more refined (idea about) demand and eligibility to be able to determine appropriate scaling for the program," Barr said.
COSTS PAID BY FEES
The federal agencies said the program will not be paid for by U.S. taxpayers but will be financed through fees paid by the state and local housing agencies.
It uses authorities granted to the Treasury under a housing rescue bill passed in July 2008 -- the same bill that enabled the Treasury to seize control of Fannie and Freddie in September 2008.
So far this year, state and local housing finance agencies have only been able to issue about $4 billion in tax exempt bonds, compared to about $16 billion annually about two years ago, said Susan Dewey, executive director of the Virginia Housing Development Authority.
"There are some states that have totally shut down their lending programs and haven't been able to lend at all," Dewey said.
The officials will need to work quickly to determine the program's size as they have set a December 31 deadline for the Treasury's purchases of bonds under the program. Barr said the bulk of the Treasury's bond purchases would take place in November and December.
The plan also aims to help jump start the private lending market for the state and local agencies. Before using proceeds of new mortgage bonds under the program, the state and local agencies must also sell debt to private investors.
Source: Reuters