This turkey is your basic no-fuss, delicious, standard turkey recipe you'll come back to again and again.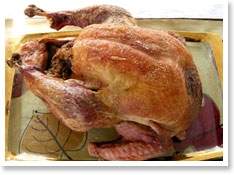 Ingredients
. 2 large yellow onions, cut in 1/2-inch rounds
. 10- to 12-pound turkey
. 4 to 5 cups stuffing
. 3 medium carrots, peeled and cut in thirds crosswise
. Coarse salt and ground black pepper
Cooking Instructions
1- Heat oven to 350 degrees F. Place onions, neck, and heart in bottom of roasting pan. Fold wing tips under bird and place turkey breast side up on top of onions.
2- Add stuffing to front and back cavities of turkey, making sure not to pack it tightly. Sprinkle turkey with salt and pepper. Add carrots around turkey.
3- After 2 hours, add 2 cups of water to the bottom of the roasting pan.
4- Roast about 3 hours, or until instant read thermometer in thickest part of thigh registers 170 degrees F. Let rest 1/2 hour before carving.
5- Gravy: Pour liquid from roasting pan into measuring cup. Discard onions, carrots, heart, and neck. Skim off fat from liquid and pour all but 1/4 cup back into roasting pan. For every 1/2 cup of liquid (what's in the pan and what is set aside as the reserved liquid) use 1 tablespoon flour. Stir that total amount of flour into the 1/4 cup of cooled, reserved liquid, and mix together well. (Note: You'll be stirring enough flour that is proportionate to all the existing liquid into that 1/4 cup of cooled liquid.) Heat the liquid in the roasting pan over medium heat, and slowly add the flour mixture to it, stirring constantly. Bring to a boil, reduce to a simmer, and cook 2 minutes, whisking constantly. Adjust salt and pepper to taste.