By Raychel Harvey-Jones AccuWeather.com
Evacuations begin in the Philippines as Typhoon Lupit looms.
The Philippines will begin evacuating thousands of people in northern areas that prone to floods and landslides today, according to Reuters reports.
The powerful Typhoon Lupit which means "fierce" has gained strength and is now on track to make landfall in the northern Philippines, according to the AccuWeather global meteorologists.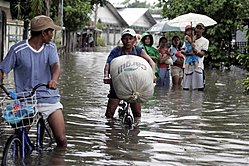 It seems the Philippines has now completely recovered from two recent typhoons storms.
Typhoons Ketsana and Parma brought record rainfall to Manila and took the lives of an estimated 850 people.
Damages from these storms are now said to be in the millions, as local officials continue to estimate the loss to agriculture and property.
The Philippines' military are on high alert to deal with the impacts of the storm.
They were essential in providing medical aid and clean drinking water during previous storms.
They have rescued hundreds of people who had taken to higher ground for safety.
Super Typhoon Lupit may affect the rice output from the region.
According to Bloomberg News, increased Philippine purchases due to their crop loss caused by three typhoons in just several weeks, may boost global demand, driving prices higher.
Futures in Chicago has risen by almost 3 percent. There is already insufficient rice for the reminder of the year in the Philippines.