No language can exist without a population, as a nation can develop without a means of communication is the key idea that emerges from the chronogram of activities of the Faculty of Applied Linguistics (FLA) which runs from October 19 to 30, around the Creole in 2009. At a conference this Thursday as part of the 28th edition of the celebration of International Day of the Creole language, linguists profess integration of Creole in education.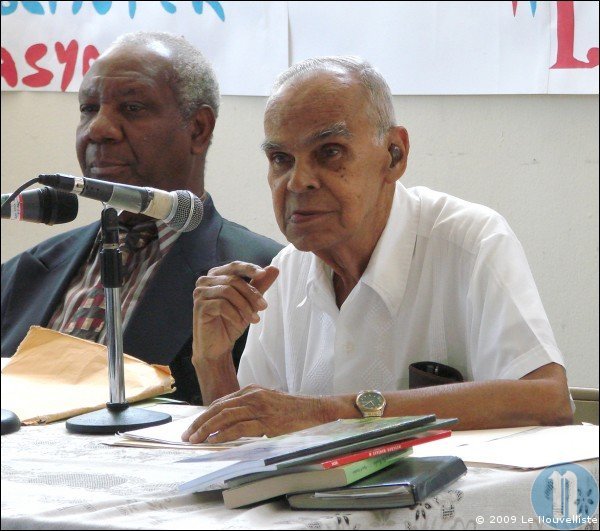 "The Creole, like any living language that evolves, the more we practice, we make more discoveries," said Professor Ernst Myrville linguist who was speaking on Thursday, accompanied by Yves Dejean and Lemet Zephyr, on the theme "Different approaches Theoretical Creole. He focused on different scientific approaches to creole language which are based mainly on observation and application of linguistic principles through Creole.
The program called "Creole 2009" theme "Lang ak nou nou, pou kreyòl kreyòl. It aims to point out that the language is related to the development of a population, its aspirations, its customs and tradition. It carries, according to linguists, while the experience of a people. Speaking on the phonetics of the language, the problem caused by the influence of classical education carried out largely in the French language and system of the Creole language, Yves Dejean, the author of "Edikasyon Tét anba nan yon peyi Tèt anba, asks them to reflect on our own means of communication. "We walk on the back of the beef without taking cognizance of the immense potential it contains within."
Lemet Zephyr, author of "Pwoblèm Pawol kle nan lang Kreyòl, meanwhile, spoke on the sociolinguistics of the Creole language. He took the opportunity to detail three major points of the different ideas that people have of the Creole language that some consider a separate language, without reference. Stressing, however, that any valid theory must be applicable to all languages, in response to statements by some Haitian writers, including writer Jean Metellus, which challenge the limits of our language.
The celebration of International Day of Creole is not only a birthday, but also an opportunity to reflect on everything that is fundamental for us as a people, have said the speakers who advocate the integration of language Creole in education.
Source: Lenouvelliste
Translation: Levanjiltv