By Justin Burrows
SAVANNAH, GA (WTOC)
- It took 9 years to complete the Haitian monument in Franklin Square, but it took 230 years for the people of Haiti to receive the proper recognition for their role in the Revolutionary War.
"The best moment in my life!" shouted Daniel Fils-Aime, who has seen this project through for those 9 years.
"This recognition is a reward for all Haitians whether they are in the U.S. or Haiti," said Ralph Latortue, the Haiti consulate general in Miami.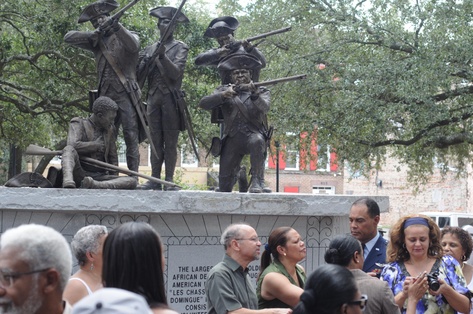 The monument was originally unveiled unfinished with only four statues in 2007, but thanks to a single-donor, the sculpture was recently completed, and presented on Saturday, with all six bronze statues.
"You're not going to find a monument dedicated to the Haitians anywhere else in the U.S. Now they're talking about doing some others, but this is it, this is #1, and that's a credit to our city," said city alderman Clifton Jones.
The monument represents the role that more than 500 Haitian volunteers played in the 1779 Battle of Savannah. A significant moment in the Revolutionary War, that according to Fils-Aime, has gone unnoticed.
"Was it not for the Haitians that came to Savannah, there would be no America today," said Fils-Aime.
"They were so important in the revolution of this country. I mean, we could be speaking with an English accent if it wasn't for the Haitians, quite frankly," said sculptor James Mastin.
And according to Alderman Jones, we should all be proud of the sacrifices represented by this monument.
"They volunteered and came here and shed their blood and died for the freedom of the United States," said Jones.
"I think it's a moment of pride. It's a moment of pride for all of us and every Haitian I know, are proud to be a part of U.S. History," said Latortue.
And now that history stands tall, for all to see.
Source: wotc.com