By NASSER KARIMI, Associated Press Writer Nasser Karimi, Associated Press Writer
TEHRAN, Iran
– Iran will seek "important changes" in a U.N.-drafted plan to ship enriched uranium out of the country for processing, state TV reported on Tuesday, raising alarm bells among Western leaders who are pushing the deal in hopes of easing concerns over Iran's nuclear program.
The TV report said Iran would agree to the "general framework" of the plan but also request unspecified changes. That suggests Tehran will accept the idea of sending the uranium abroad — something it had previously appeared reluctant to do — but that there could be a tussle with the U.S. and Europe over how it will be sent and how much.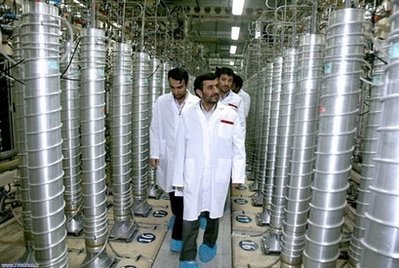 France's foreign minister expressed exasperation with Tehran, saying it is trying to have the proposal "thoroughly reworked." Bernard Kouchner said he doesn't think the plan needs dramatic changes and warned Iran, "It cannot take forever. We wait for answers."
The plan was formalized by the United Nations last week after talks between Iran and the United States, Russia and France. It calls for Iran to ship 70 percent of its enriched uranium abroad for further enrichment. The U.S. and its allies back the deal because it would at least temporarily leave Iran's uranium stockpiles too low to build a nuclear weapon. Iran denies any intention to develop a bomb.
Iran's state-run Arabic-language channel Al-Alam cited an unidentified official saying Iran will officially reply on the deal within 48 hours. Iran "will agree to the general framework" of the plan "with a request for important changes," the official said.
The report did not specify the amendments Iran will seek. Another Iranian state channel, Press TV, said Tuesday that Tehran is opposed to sending the entire shipment abroad at once, suggesting it wants to do it in stages.
Iran has also given hints that it may want to send less than the 70 percent of its stockpiles abroad. On Monday, Iranian Foreign Minister Manouchehr Mottaki said Iran might agree to "deliver part of (the low enriched uranium) fuel which we currently don't need."
A French diplomat said he expects Iran will seek to dramatically reduce the amount of uranium it would ship. The diplomat in Paris spoke on condition of anonymity because of the sensitivity of the situation.
Speaking in Luxembourg, France's Kouchner showed impatience with Iran, suggesting it was drawing out its reply on the deal. "We have been waiting for almost three year for the light at the end of the tunnel. And we still wait," he said.
The European Union's foreign policy chief, Javier Solana, who is also negotiating with the Iranians, said "the deal was a good deal and I don't think it requires fundamental changes."
In the enrichment process, uranium purified to a low level — 5 percent or below — is used as fuel for a nuclear reactor, and to a somewhat higher level — around 20 percent — it can power a research reactor. The United States and its allies fear Iran secretly intends to further enrich its low-enriched uranium to more than 90 percent purity, the level needed to build a bomb. Iran contends its program is intended only to generate electricity.
Around 2,200 pounds (1,000 kilograms) of low-enriched uranium is needed to produce enough weapons-grade uranium for a single nuclear warhead, according to experts. Iran is believed to have well over that amount of low-enriched uranium in its stockpiles.
The U.N. plan would require Iran to send 2,420 pounds (1,100 kilograms) to Russia in one batch by the end of the year to be enriched further. It would then be sent to France to be made into isotopes for use in a Tehran research reactor. Doing so would put Iran well below the quantity needed for a bomb — for a period, anyway, until it enriches more uranium in its facility to refill its stockpiles.
Since the agreement was first discussed in Geneva earlier this month between Tehran and six world powers, diplomats from some of the countries involved have insisted the uranium shipment would have to be in one batch to be acceptable, or at the most in two with little time elapsed in between.
If it does the shipments in small batches, it would be able to make up for those small amounts quickly by producing more low-enriched uranium, meaning that its stockpile would never be depleted enough to delay its ability to create high enriched, or weapons-grade uranium.
Even if Iran does ship the entire amount all at once, it could replenish it "in little over a year," said David Albright at the Washington-based Institute for Science and International Security, which tracks Iran for signs of covert proliferation.
Iran has come under three rounds of U.N. sanctions for its refusal to suspend its uranium enrichment program. Tehran insists it has a right to the program to develop fuel for electricity-generating reactors. Even as it mulls the deal for shipping uranium abroad, it has made clear it will continue with enriching its own uranium.
Iranian President Mahmoud Ahmadinejad vowed on Tuesday to push ahead with the nuclear program in his first comments since the deal was put forward last week. He did not mention the plan directly, and instead lashed out at Israel, which is widely believed to have an arsenal of nuclear weapons.
"When an illegal regime has atomic weapons, it's impossible to block others from the right to have peaceful nuclear energy," Ahmadinejad said during a meeting with visiting Turkish Prime Minister Recep Tayyip Erdogan.
___
AP correspondents George Jahn in Vienna and Angela Charlton in Paris contributed to this report