The fate of Prime Minister is already decided before the session of questioning Thursday, October 29. President Préval has vainly tried to dissuade parliamentary questioners of Lespwa (Hope), it was learned.
At a meeting held Tuesday night at the National Palace, René Préval had vainly tried to dissuade senators from questioners Lespwa threatens to pass a censure motion against Prime Minister Michele Pierre-Louis and his government, reports Joseph Lambert, a senator Lespwa who took part in the meeting.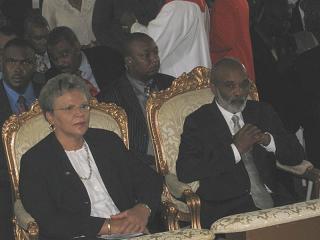 The MPs, who accuse the government of Pierre-Louis does not have met the expectations of the population, have suggested to the president that they will not reverse their decision, "says our source.
Meanwhile, they have discussed with the President's choice of successor to Ms. Pierre-Louis, which should take place very quickly after the dismissal of cabinet Pierre-Louis. They have submitted the names of possible successors, they say, do not leave a political vacuum.
On the counting of votes, the senators would have assured questioners vote of 14 parliamentarians Lespwa, senators and independent from other political parties, and the Lavalas senators, except Rudy Herivaux which is against the inquiry.
Source: HPN