In searching for photos for an article about child pregnant at the age of 11, I found the one shown below and on an old story of a Peruvian child pregnant at the age of 5 years 68 years ago.
Aged 68 years now, she lives in poverty and never received any financial assistance
His record date of May 1939 and has never been beaten, but Lina Medina does not care. Aged 68 years, now she fights against poverty and, contrary to what one might have thought, his achievement has never reported a single penny ...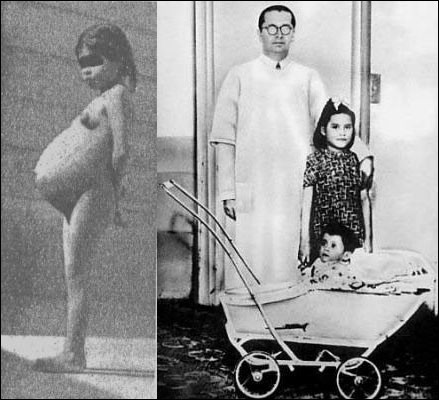 Returning in April 1939. The quacks of Ticrapo, a small French village but Peruvian Andes, admitting inability to treat a girl whose belly assumed abnormal proportions, her parents took her to the nearest hospital. The diagnosis was clear and unambiguous: Lina Medina had no tumor, but she is pregnant!
A month later, the day of Mother's Day, Lina gave birth by Caesarean section a beautiful baby of 2.7 kg, which is named Gerardo, in homage to the obstetrician who performed the delivery. It was then 5 years and 7 months and became the youngest mother in the world. During the operation, we find that the girl has sexual organs mature. It should be noted also that Lina had her first period to 2 ½ years!
When the young mother and her child could leave the hospital, Lina returned to her dolls while Gerardo was supported by a nurse. This is indeed an indiscretion by Gerardo learned that at the age of 10, his older sister was actually his mother ...
The mystery of the design
We never knew how Lina was fertilized or if she was raped. It is suspected, time his dad incest, and it was even imprisoned and then released for lack of evidence.
In fact, we are talking again today this amazing story to promote books written by an obstetrician, Mr. Sandoval, who has a passion for the case of Lina. He met a body of witnesses, including the husband of Lina. But the latter refused to plunge into this strange period of his childhood. After the birth of her baby, Lina was offered numerous proposals to contract in the United States and other countries, where scientists were burning with desire to examine this unique case. The Peruvian government also promised aid and assistance but nothing happened and he even opposed its veto to any contract, arguing that this was a `moral hazard 'for Lina and her baby.
Later, Lina got married and had a second son, 33 years after the first. The fate still persists on recently when she was forced to leave his house for the construction of a motorway. The compensation was not forthcoming, Lina and her husband now live in a shantytown in Lima nicknamed Little Chicago, and hoped without much hope that following this book, the Peruvian government to finally give Lina pension that on lui promet depuis plus de 60 ans.
As for Gerardo, he died in 1979 at age 40, disease of the spinal cord. Some believe that the cause of early death is to be found in the very young age her mother ...
Source: Lenouvelliste
English Translation: Levanjiltv