By Mark Newman / MLB.com 11/02/09 3:31 AM EST
PHILADELPHIA -- The trophy and the trains are waiting.
Tonight will decide which one to grab.
Tonight will decide whether the Commissioner's Trophy is presented to the New York Yankees for a 27th World Series championship, far more than any other team.
"We haven't accomplished anything yet," said Johnny Damon, whose remarkable at-bat and then even more remarkable baserunning paved the way for Sunday night's 7-4 victory. "We've won three games, and that's not what we set out to do. We would like the fourth, and when this playoff time started, we set out to win 11 games. We're at 10, and hopefully we can get No. 11."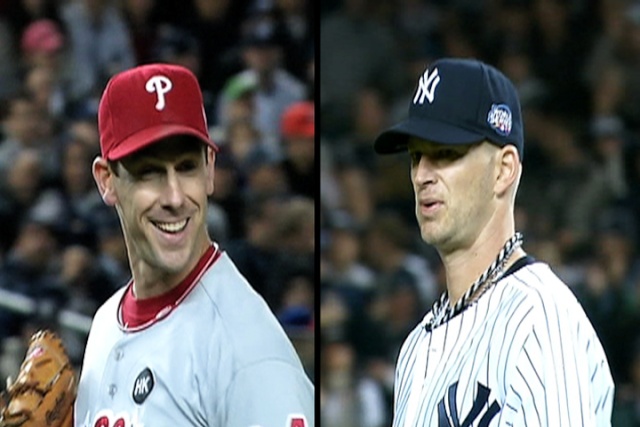 Tonight will decide whether the Phillies and the Yankees both go back to the 30th Street Station and take trains back up to Penn Station for another game or two at Yankee Stadium.
"We play as a team and play like every game is our last game," Phillies second baseman Chase Utley said. "So that's not going to change how we go out there."
The best-of-seven 105th World Series and the entire 2009 Major League Baseball season have come down to this: Yankees leading Phillies, three games to one, with Game 5 now a possible clincher and scheduled to start at 7:57 ET in front of one last sellout crowd at Citizens Bank Park.
Tonight is Cliff Lee back on the mound for the Phillies, who won their only game so far in this series behind his complete-game victory in the opener.
"What happened yesterday is over," Lee said. "There's nothing I can do about that now. What can I do today to prepare for tomorrow? I stick with that. I don't really look into, well, this guy did this for this long and now he's doing that, what's the reason behind it? I don't know. I don't think along those lines. I think along the lines of what can I do today to prepare for tomorrow, and then after today is done, it's done. Move onto tomorrow. What can I do now to take care of today?"
There is no other option, because today is here.
Tonight is A.J. Burnett making his final start of the season for the Yankees -- and it could be a decision that results in the latest title for the Bronx Bombers. Tonight he could be hit with a pie in the face by teammates after all those times he did it to Yankees players who hit walk-off homers. A pie in A.J.'s face would be automatic if he throws a clinching victory.
"It's great. I've waited a long time for it, and I'm going to take it full stride," Burnett said. "I'm going to go out there with everything I've got, and you take nothing for granted. I've seen some crazy things this postseason, and I guess that's why they call it postseason baseball, because anything can happen.
"But you've got a great lineup over there, and we're going up against Cliffy. So I'm just going to try to go pitch for pitch against him and keep our squad in it. But I'm looking forward to it and can't wait."
Tonight will decide whether the Phillies can stand up and swing when they are pushed back against the ropes late in the title bout. Sunday's game was tied, the World Series could have been tied, and now the picture looks very different. The "Rocky" statue is right there down at the base of 72 steps in front of the Philadelphia Museum of Art, and tonight we will see whether "Gonna Fly Now" is playing and whether anyone is running up the steps.
"I think we take a lot of pride on being resilient and the way we bounce back," Phillies manager Charlie Manuel said. "I know that we're going to come out and play to win. I know that. I've seen us go through it before. We've blown 22 games from the seventh inning on or something this year. That's got to tell you something about the resilience of our team. We're in the World Series now. But at the same time, we're down, but you know what, we're still breathing."
Tonight there will be plastic covering all the Yankees' lockers in the visitors clubhouse, and a tub of chilled champagne will be waiting for them while they play.
Tonight the Phillies can make it even more remarkable if they should go on to repeat as World Series champs. Tonight the Yankees can repeat what Babe Ruth and the 1923 Yankees did, and that is win it all in the first year of Yankee Stadium.
Tonight, a massive FOX viewing audience will tune in again, maybe for one last time in this World Series or maybe until the action resumes back in The Bronx.
Tonight will be the final baseball game in Philadelphia for the year. Maybe they will come back here for another parade, like the one they treated their fans to a year ago. Maybe the Phillies will just go home after tonight's game, and hibernate until next April.
Tonight we will know whether the record of most consecutive World Series finishing in five or fewer games will be extended to six years. If the Yankees win, it would be the sixth straight year of 4-1 or 4-0 series outcomes.
Tonight could start a rally that leads to the first seven-game World Series since 2002, Angels over Giants.
Tonight will decide whether the Yankees are the first team since the 1991 Twins to win a World Series with only three starting pitchers. Back then, it was Jack Morris, Kevin Tapani, Scott Erickson, Morris, Tapani, Erickson and Morris. After tonight it will be CC Sabathia, Burnett, Andy Pettitte, Sabathia and Burnett. Will it stop there?
"You really can't get caught up saying we've got a 3-1 lead," said Yankees captain Derek Jeter, on the brink of winning one for the thumb. "We need to come out here with the same approach we have the entire time and that's win a game. That's the bottom line. If you start looking at what kind of lead you have, I think you tend to relax a little bit. So we need to come out here and play well."
On Nov. 2, 2009, under a full moon, the Phillies could set out to do something highly unusual but proven to be doable. Of the previous 43 teams that took 3-1 World Series advantages, the team on top has gone on to win it all 37 times, with 24 of those closing out the Series in five games. That means the Phillies could become the seventh to come back and win a title.
Tonight you almost certainly will hear about the other teams that did it: 1985 Royals (over Cardinals), 1979 Pirates (over Orioles), 1968 Tigers (over Cardinals), 1958 Yankees (over Braves), 1925 Pirates (over Senators) and 1903 Boston Americans (over Pirates).
Tonight Mariano Rivera will be ready to pitch, and we know this because a reporter had the guts to ask the Yankees' closer that question at his locker after Rivera's latest stellar save.
"Are you kidding me? Should I answer that question?" Rivera replied. Then he smiled. "Yes, I will be ready to pitch tomorrow."
Tonight the World Series could end in five or fewer for the sixth consecutive year. The Phillies could make it the first time since 1989-90 that a club has won a World Series in five or fewer and then lost it the next year in five or fewer. That Oakland club swept the Giants in 1989 and then was swept by the Reds in 1990. These Phillies beat Tampa Bay in five last year and risk losing to the Yankees in five.
Tonight Alex Rodriguez could celebrate a World Series title. It might have seemed such a foreign thought to some when this baseball season began a long time ago.
"It feels good, but we've been down this road before, and we have to stay very focused," he said. "Those guys are the world champs. We're going to come out fighting, and so are they, so just staying in the moment."
Tonight it could all be over.
Tonight it could be sent 108 miles back up to New York.
It is time for one last game of this 2009 season in a National League park and time for the Phillies to swing tirelessly like Rocky or for the Yankees to clear the way for a parade up the Canyon of Heroes in lower Manhattan.