Brazil college backs down on mini-dress expulsion
By TALES AZZONI, Associated Press Writer Tales Azzoni, Associated Press Writer
SAO PAULO
– Brazil's case of the pink mini-dress that went viral on the Internet has left many scratching their heads: How could it be that an outfit, no matter how short, would cause such an uproar in a tropical nation where skimpy clothing and tiny bikinis barely raise an eyebrow?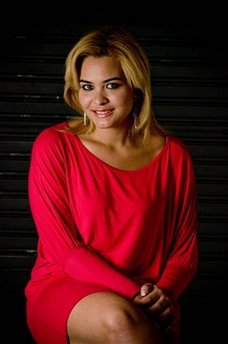 The answer, a Bandeirante University official said, is not in the pink dress, but in how Geisy Arruda, a 20-year-old tourism student, chose to wear it. In expelling her from the university — where she has since been reinstated — officials said she paraded provocatively and raised the dress.
"There are hundreds of girls wearing miniskirts on this campus every day, and nothing has ever happened," Vice Dean Ellis Brown said at a news conference Tuesday. "The size of the dress was never discussed — her behavior was."
Arruda has vehemently denied acting provocatively, telling the private Agencia Estado news agency: "It's a big lie that I raised the dress."
In reversing the decision to expel Arruda, Brown said the school was opting for educational rather than disciplinary action.
He said the university was not wrong in its initial decision because it followed internal rules, but admitted the reaction in Brazil and around the world played a part in Arruda's reinstatement. He said the attention was hurting the other 60,000 students at the university.
Maisa dos Santos, 38, a maid in Rio de Janeiro, called the dustup absurd. She guessed it was the result of different attitudes in Sao Paulo, known in normally carefree Brazil as a city that is all work, no play.
"The people in Sao Paulo, they're just squares. There was nothing wrong with that girl's dress," Santos said. "If I had a body like hers, I'd show it off, too. Besides, here in Rio, it's too hot to wear much clothing."
Some who studied with Arruda confirmed the school's view that the dress was never the problem.
"She extrapolated," 22-year-old engineering student Adriana Santiago said. "It wasn't normal the way she was acting that day and it wasn't normal how she acted before. It wasn't a surprise it happened."
Brown didn't say if or when Arruda would return to the university. She has not made any public statements since being reinstated.
Arruda said previously she would be afraid to go back.
Her lawyer, Nehemias Domingos de Melo, said there must be safety guarantees for Arruda to return. Earlier, he had said that she had been contacted by two other colleges offering her a full scholarship, but Tuesday afternoon he told the O Globo newspaper those were apparently fake phone calls.
Brown said that if she came back, the school would monitor the situation to make sure she could safely study, but he provided no details.
Videos of students ridiculing and cursing Arruda turned up on the Web, quickly made headlines across Brazil and drew attention around the world to the Oct. 22 incident.
Arruda was forced to put on a professor's white lab coat to cover her short, pink dress and was escorted away by police amid a hail of insults by students, some chanting "whore, whore."
The case drew widespread protests in Brazil — from government officials and a national student union to an online movement among local celebrities and others, who used the color pink to frame their Twitter profile photos and send messages of support.
Civil police in the city of Sao Bernardo do Campo outside Sao Paulo, where the university is located, said they will investigate the students accused of heckling Arruda. The university said earlier that some would be suspended. But Brown said along with Arruda's reinstatement, the heckling students would not be punished.
Arruda's expulsion prompted a demand from the Education Ministry that the university explain why it had kicked her out. The Ministry said in a Tuesday statement that an explanation was no longer needed because the student was reinstated, but that it would continue to follow the case closely.
The student union released a statement Tuesday praising the decision to reinstate Arruda.
Although Brazil is known for revealing clothing — especially in beach cities, where one popular style of bikini is so skimpy that it's called "dental floss" — most college students dress more modestly on campus, commonly in jeans and T-shirts.
"I always dressed in a way that makes me feel good and that doesn't offend anybody," Arruda said during an interview with Brazil's Globo TV. "I was always like that and was never recriminated by anybody."
___
Associated Press Writer Bradley Brooks in Rio de Janeiro contributed to this report.