Heavy rain prompts flood warnings from NC to NY
RICHMOND, Va.
– Relentless rain swept along much of the Atlantic seaboard Thursday, triggering coastal flood warnings and watches from North Carolina to Long Island.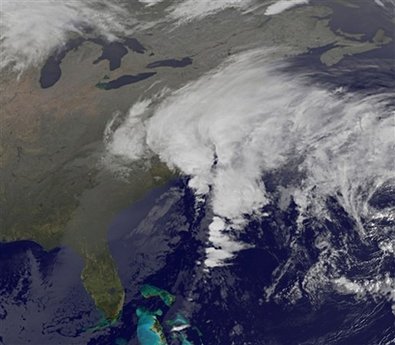 The downpour marks the track of the remnants of tropical storm Ida, which blew ashore in Alabama from the Gulf of Mexico on Tuesday. Ida lost its tropical storm strength shortly after coming on land but has drenched a swath from Alabama through Georgia as it meandered toward the Atlantic.
Gale, high wind and storm watches and warnings were in effect from North Carolina to New Jersey.
Virginia Gov. Tim Kaine declared a state of emergency Wednesday, mobilizing state agencies to prepare for the threat of flooding over a wide swath of Virginia.
The National Weather Service forecast 3 to 8 inches of rain through Friday morning for parts of Virginia.
Dominion Power reported more than 19,000 outages in Virginia early Thursday.
Norfolk and Suffolk reported street flooding.
"We're fairing fairly well, we've already passed high tide," said Ron Keys, Norfolk's director of emergency preparedness and response.
Keys said the city was reviewing contingency plans for the next high tide Thursday afternoon.
The Virginia Department of Transportation closed the MidTown Tunnel In Norfolk and suspended service at the Jamestown-Scotland Ferry because of high water. Several bridges in Norfolk also were closed.
Old Dominion University in Norfolk canceled classes Thursday.
Schools were closed throughout the Hampton Roads area.
Flood warnings were posted across most of North Carolina from the mountains to the coast, with trees down and some roads closed.
Schools were opening later than usual in several school districts in the Wilmington area.
Isolated power outages were also reported, especially in the Charlotte area.
In South Carolina, state health officials blamed the heavy rains for overwhelming sewage plants in the Columbia area, dumping some raw sewage into three rivers.
In suburban Atlanta, streets and yards that border the Chattahoochee River filled with water as the river spilled over its banks from the rain. The area is still waterlogged from historic flooding in September, which swamped homes and businesses.
Source: AP