Haiti-Cooperation: The U.S., France and Canada will work with the new government
Past the period of uncertainty caused by the sudden departure of Prime Minister Michele Pierre-Louis, Haiti's friends say they welcome the early functioning of a new government and promised him their support.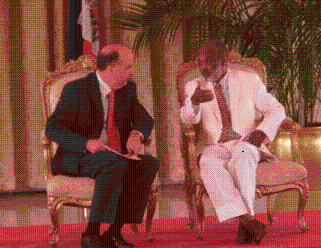 In announcing the dismissal of Ms. Pierre-Louis, USA, France as the UN had hoped that there is no political vacuum in Haiti. Less than 15 days later, the entire diplomatic corps attended with relief at the National Palace at the inauguration of the new team led by Jean-Max Bellerive.
At the inauguration of the new government on Wednesday, Haiti Press Network has received the response of three ambassadors to Haiti.
"It has been an Olympic speed", said with a smile Ambassador of Canada Gilles Rivard. "The president and his team were prepared to change things quickly and this reflects the concerns that my colleagues and I had expressed," added the diplomat.
As further reassure the international community, eleven of the 18 ministers of the team Pierre-Louis has been renewed. The change in continuity. "Now we'll see what the government program and how can Mr. Bellerive make a difference in Haiti," said Canadian Ambassador reiterated the support of his country, one of the leading contributors to Haiti, with a annual support of $ 110 million.
To the Ambassador of France Didier Le Bret, "continuity through change" is the main characteristic of this new government.
The diplomat has arrived in Haiti noted with satisfaction that the institutions function well.
"This is good news for democracy in Haiti to see that it is possible to have a change of government in the framework of institutions and within the rules," he judged.
Finally the Ambassador of the United States Kenneth Merten says wait and see in action the new government, but does not change in cooperation with Haiti.
"We hope we can continue to work effectively with the new government. Our policy will remain roughly the same, but we would like to see, naturally in a partnership like ours, the results too, "said the diplomat at HPN.
The U.S. is reassessing cooperation with Haiti since the arrival of President Obama to the White House. "The results are not yet ready, but I guess we'll keep this one does, maybe there will be some increase also," said Dr. Merten.
HPN