Haiti: Union and disunity (Chavanne Jeune)
Dissension within some political parties push the Provisional Electoral Council to exclude, inter alia, bati Konbit pou Ayiti, the National Union of Christians for the reconstruction of Haiti and the Haitian Christian Democratic Party from the electoral race. A red card that breaks the law that existed previously between Minister Jean-Marie Claude Germain and Pastor Chavannes Jeune.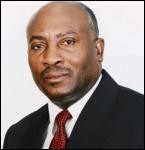 The Environment Minister, Jean-Marie Claude Germain, was accused Wednesday of "forgery and using false" by Pastor Chavannes Jeune, leader of the National Union of Christians for the Reconstruction of Haiti (UNCRH). The engineer would Germain manufactured by Chavannes Jeune, a false seal to unwittingly enter the UNCRH within the insiders, the new political platform propelled by President René Préval. "The seal of the party is a rectangular, whereas the one used by Jean-Marie Claude Germain is a circular shape. The Union headquarters is located at Delmas 31 and the Engineer Germain has used an address of Petion-Ville to enter EU in the initiated, "said Chavannes Jeune.
"All these crimes were reported at a meeting at the National Palace, also explained the young pastor. President René Préval, the Minister of Justice, Paul Denis, and Jean-Marie Claude Germain have attended the meeting at the presidential palace. Chavannes Jeune who did not call again excluding his party from the elections said she filed a complaint against the actions of Mr. Germain with the Provisional Electoral Council, the prosecutor of Port-au-Prince and the Chamber of Deputies . Pastor Young said, meanwhile, the revocation of Mary Jean Claude Germain functions of Secretary General of the Union.
Jean-Marie Claude Germain remains unmoved these virulent accusations were officially represented the Union in the coalition government of Jacques-Edouard Alexis who was deposed in April 2008 by the Senate. He was reappointed to the Government of Michèle Duvivier Pierre-Louis who has suffered the same fate as its predecessor, and is still the minister.
In addition to the UNCHR, three other parties including Konbit pou Ayiti Bati (Konbit) Effort of Solidarity for the People's Construction Camp (Escamp) and the Christian Democratic Party (PDCH) are excluded by the PRC because of internal conflicts . Lavalas, the party of former President Jean-Bertrand Aristide, is found, also in turmoil. Its potential candidates will have to find another banner if they want to seek office the next election. And why? The warrant presented by Dr. Maryse Narcisse is not authentic. Another blow to Lavalas who missed the partial senatorial elections last April.
Source: Lenouvelliste (French)
Translation: Levanjiltv