A donation of 630 million yen in Haiti
A donation of 630 million yen (about 7 million U.S. $) is granted to Haiti during the signing of an agreement on Monday, urging the Haitian government, the Japanese and the Office of monetization program development assistance . The agreement aims to promote the improvement of socio-economic development through development projects.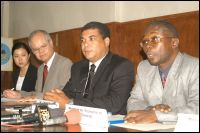 A grant agreement worth 630 million yen was signed Monday between the governments of Haiti and Japanese who tried to evaluate the program Kennedy Rads (KR) 2008 Japan-funded to the tune of 780 million yen . The donation of about 7 million U.S. dollars is part of Japanese food aid to Haiti. The signing agreement took place during a working meeting attended by representatives of the two signatory governments and those of the Japan International Cooperation Agency (JICA).
Signed to Ministry of Foreign Affairs and Worship from the Charge d'Affaires ai of Japan, Mr. Shoji Otake, the Foreign Minister of Haiti, Marie Michele Rey, and the director of the office of JICA, Mr. Tadashi Ikeshiro this donation for the supply of rice in food aid to be received in the month of July 2010.
The representative of the Ministry of Economy and Finance, Mr. Joseph Jonas Avrilus, noted some difficulties with the monetization of food aid (KR) of Japan for the year 2008. "The monetization of 8 354.5 metric tons of rice worth 7.7 million U.S. dollars had not been quite easy because of local market conditions," he said, commending Bureau of monetization, by experience, who could achieve sales and timely manner.
Matching funds from the monetization of food aid Japan in the program since 1995 KR is the realization of major development projects. They are entrusted to the Bureau of monetization is the contracting authority delegated various sectoral ministries to ensure funding and implementation of infrastructure projects, agriculture, health, roads and schools and sanitation projects and construction markets.
According to the Director General of Bureau of monetization, Michael Lecorps, distribution and sale of food aid begins with the arrival of the first shipment in July 2010 at competitive prices. The consideration will be aimed at financing of socio-economic government.
The funds from the management of this gift must be used properly, according to the wishes of the director of the office of JICA, Mr. Tadashi Ikeshiro. "Those responsible for this gift are called to use wisely to ensure an improvement of the socio-economic development," he said.
During the working session that preceded the signing of this contract, the three partners had the opportunity to deepen discussions on the food situation in Haiti, the delivery system of food aid, distribution of products, deposit and use of counterpart funds.
The contract was signed in the presence of the Director of Economic Affairs and Cooperation Ministry of Foreign Affairs and Worship, Christian Saints and Director of the Office of monetization of development assistance, Mr. Michael Lecorps.
Source: Lenouvelliste (French)
Levanjiltv: English Translation