A new airline between Haiti and the U.S.
The airline Inselair opens this Friday its first flight on Haiti, the line expects to 5 flights per week between Port-au-Prince and Miami, has learned Haiti Press Network.
The new company will offer competitive rates of less than $ 300 (taxes included) will serve passengers on the tour Port-au-Prince to Miami.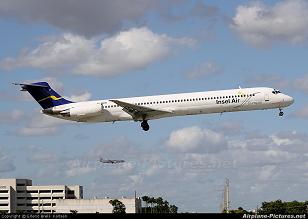 "Throughout the holiday season and the beginning of the year, the cost of flights Inselair be discounted," said a responsible company.
The inaugural flight is expected Inselair Friday morning at Toussaint Louverture International Airport in the capital at around 9 am AM. By week officials of the new company has 5 flights scheduled Monday, Wednesday, Thursday, Friday and Sunday.
Departing from Miami at 7:30 in the morning to Port-au-Prince, aircraft, models MD-80 and MD-82 of 152 seats, leaving Port-au-Prince at 6:40 PM arriving at 8:00 pm in Miami.
HPN