Haiti: The economic and social rights, especially
75% of the Haitian population does not work. Approximately 500,000 children of school age are trimbalent daily in the streets across the country. They lack access to food or drinking water or shelter or health. The 61st anniversary of the Universal Declaration of Human Rights (UDHR) gives rise to reflections on the observance of economic and social rights in Haiti.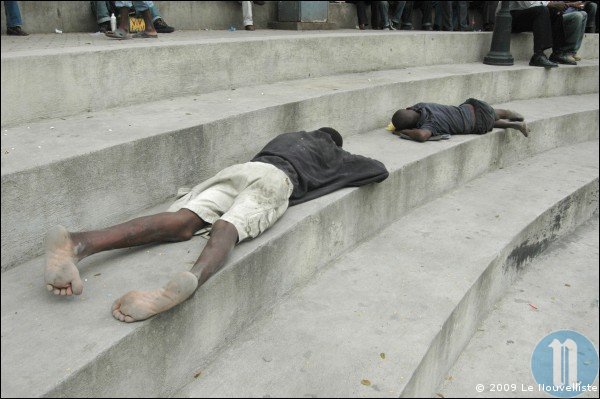 Barefoot and dirty with dust, James, a 12-year spin in the vicinity of the premises housing the Fire Corps. Wearing a crumpled piece of cloth and dirty, this teenager spends most of his time in the Champ de Mars to clean the windshields of vehicles. A few yards away, Mora, another youth, strolls to the car park near the Place des artistes face rejection or acceptance of passers-by who he asks for money.
These two teens are among hundreds of children of school age who hang out all day in the streets of Port-au-Prince, particularly in the area of the Champ de Mars. They join together thousands of children across the country whose right to education remains a dream. "I'd love to go to school. Besides, I always wanted to go. But my mom always tells me she can not afford, "complains the little James, a shifty-eyed.
The right to education however, is one of the fundamental rights guaranteed by the Universal Declaration of Human Rights in its Article 26. Moreover, this right is enshrined in the Haitian Constitution in Articles 32, 32.1, 32.2. It is stated in Article 32.3 that primary education is compulsory. Haiti has committed itself at the Dakar conference in 2000 to make every effort to halve by 2015 the number of children aged 6 to 12 years of school through the Education for All project. Yet, according to information available, about 500,000 children of school age are still waiting to taste the bread of instruction.
If for any children who have mobility access to education is difficult, the situation is most acute for those with physical disabilities. "Only 51% of boys against 49% of girls and 3% of children with special needs, school age have access to school," according to a press release from the National Network of Human rights (RNDDH).
For the executive secretary of the Platform of Haitian Human Rights Organizations (POHDH) Antonal Mortimer, there is not that the right to education is not respected in Haiti. Citizens are affected in almost all their social rights. "The economic, social and cultural rights are treated as poor relations in Haiti because the Haitian state does not take the necessary legal provisions that can protect them," says Mortimer.
He cites as evidence the low purchasing power of Haitians. About 80% of them live below the poverty line on less than U.S. $ 2 per day. Among others, there is currently in Haiti about 3 500 000 people of working age. Over 70% of them are unemployed and the rest is lost in disguised unemployment. "75% of the Haitian population does not work. And, therefore, has no income to enable access to a decent standard of living, "reads the statement of Assizes.
The human rights defenders, to mark the 61st anniversary of the UDHR, also point the health sector. The few thousand seven hundred sixty-eight (1 768) health facilities including one hundred and twenty eight (128) hospitals available to the country are inadequate to the needs of the population estimated at eight million five hundred thousand (8 500 000) inhabitants. Worse, many of these structures are poorly equipped and have a small medical staff.
The town of Anse-à-Pitre has one health center ill-equipped for emergencies. There are a few doctors and auxiliary 25 000. "When a case is beyond the competence of doctors and other officers of this hospital, the patient is obliged to visit the Dominican Republic for appropriate action. There is no pharmacy at home. To buy a product, we cross the border, "says a native of this county.
Respect for human rights remains a major challenge in Haiti. And measures to ensure their application are far from effective. Because Haiti has not even signed the International Covenant on Economic, Social and Cultural Rights (ICESCR) since its adoption in 1966. A Covenant that guarantees a decent standard of living characterized by access to food, clean water, shelter, education, gainful employment, health care and recreation.
Max Jean St Fleur
Geralda Sainville
Source: Lenouvelliste (French)
Levanjiltv: (English Translation)