Haiti: Insecurity tends to rise
From 5 to 11 December 2009, no fewer than 11 people were killed by bullets in the urban community of Port-au-Prince. The new victims are Jean-Michel Ligonde, Maryse Lindor and a youth who accompanied them. Between explanations of the causes of this upsurge in crime and promises of quick actions of the HNP to curb the phenomenon known as punctual, cyclical, we agree that it skids.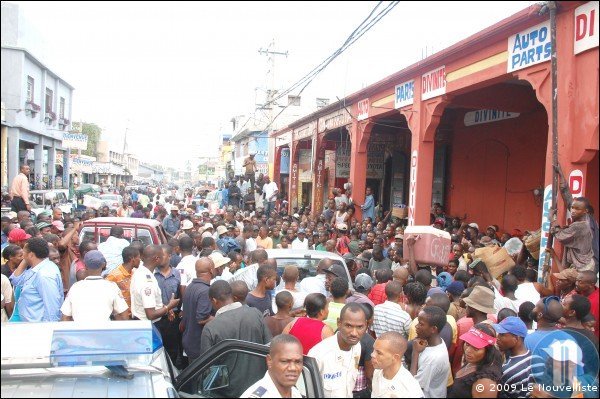 It is two o'clock, Friday, December 11, 2009. Jean Michel Ligonde, driving a Mitsubishi pickup truck registered gray AA 46 225, leaving his food store at number 388, boulevard Jean-Jacques Dessalines commonly called "Main Street". With him, Maryse Lindor and a young man, physically frail. Sixty yards away, he turned right at the Barracks street teeming with people. He stops. Blasts. Panic. They ran in all directions. An unidentified man, said a witness still in shock, coming to the end on the vehicle occupants.
Calmly, he crosses the street, pointing a motorcycle taxi and fled to the Bicentennial, the witness goes on. Surgery. Flawless. He shot to kill, says to throw away a policeman. The victims were all shot in the head, noted he.
Difficult, other policemen rushed to the scene trying to establish a security perimeter, to define the crime scene, already polluted and two nine-millimeter casings projected onto the body of Jean-Michel Ligonde and the gaping hole in Parietal left the young woman in their twenties nauseate and other curious bystanders. Flies attracted to the blood cover the body of frail young man lying on the floor. The poor, he tried to avoid this tragic end, "lamented a woman holding a plump slack fries around. "Jean-Michel would never have returned to live in Haiti," shouted his face bathed in tears, an acquaintance of Mr. Ligonde, quarantine, from Les Cayes, according to other sources.
"From 5 to 11 December 2009, no fewer than 11 people were killed by bullets in the metropolitan area," says Reginald Delva in Haiti Alert, an observatory working on issues related to security. Francesco Fantolin, Mercilien Doll, two men in Santo 3 and many others have been killed in recent days, "added he, noting similarities in the killings. These murders were committed by individuals on a motorcycle on people returning from the bank or were to conduct a financial transaction whatsoever, "said Reginald Delva. Somewhat annoyed, the security expert, ex-cadet of the Military Academy at West Point United States, criticized the trivialization of crime scenes in many of these murders.
"Scene of Crime trivialized, investigation trivialized, says he saying that in these circumstances it can not proceed by denouncing the system. No conclusive scientific evidence will not establish liability for these murderers. And, as usual, after a long stay in prison, these suspects will be released by judges to the judicial police who has delivered an empty folder, light, without proof, without evidence ". The increase in the number of police officers downtown to be effective advocates for Reginald Delva deter criminals lurking in the vicinity of banks and other institutions finacières.
The number of acts of banditry and killings tend to increase later this year, said the head of the judicial police, Frantz Thermilus in PNH. The authors want to spend a good Christmas and New Year by purchasing beautiful things with the fruits of their crimes, "he added. He also expressed holding an emergency meeting of the General Staff of the HNP to find the best method to counter the activities of these bandits who are sowing grief in the population.
Meanwhile, as members of the notorious gang the Canadian "hell's angles" (angels of Hell), Haitian assassins on a motorbike hit hard and leave the impression that security side, it slips!
Source: Lenouvelliste (French)
Levanjiltv: (english translation)