Haiti: Lavalas says no to René Préval
Relatives of Lavalas bitterly commemorate the 19 years of election to the presidency of their leader Jean-Bertrand Aristide in exile since 2004. This December 16th, they spat on the electoral process in June 2009 and February 2010 while denouncing what they called the treachery of Lespwa and demanding the resignation of head of state and electoral advisers.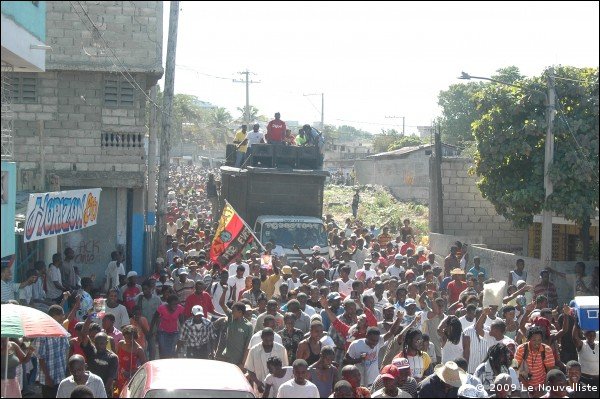 "Now is not the party, has claimed Jacques Mathelier, former delegate of the south county. The people are always in the streets to demand some of their civil rights and the return of their sole leader. This December 16th, brings us grief. It is time that the exclusion and hypocrisy are no longer appropriate. "19 years after the ascension to power of their charismatic leader Jean-Bertrand Aristide, the supporters of the former head of state to refuse to spit René Préval, his former ally. They won the streets of the metropolitan area of Port-au-Prince to express their grief and denounce the abuses they suffered since the departure of their chief in February 2004.
They have launched diatribes and cries of pain and fatigue against the team of President René Préval and members of the Provisional Electoral Council. The Lavalas were could not be more forceful claim for the end of the Preval administration / Bellerive and departure of electoral advisers. Cité Soleil in Delmas 38 which is housed the Provisional Electoral Council (CEP), from other populated areas like Bel Air and San Martin, they screamed their hatred of the EMB to have been excluded from Senate of June 21, 2009 and legislative scheduled for February and March 2010.
"There is no election without voters," said Maryse Narcisse, whom Mr. Aristide held in South Africa, was mandated to register the Lavalas party registers the next election. President Préval and his friends decided to remove the majority party in the race. Today, as in 1990, she was shown alive and says that the bribe money can not buy his conscience or his right to vote. "
To save the label Lavalas, Aristide's relatives denounce their comrades in arms who are classified under other banners policies to be accepted as candidates for next elections. "We know and condemn every day," said Jacques Mathelier. Knowing that the PRC does not hold an election but a selection of MPs for the cause of power in place, we stay away from his efforts. "
As a precaution, some protesters have turned into combat scouts for bystanders who take the nasty habit of benefit events for ransom Lavalasians passersby. Several urchins were delivered to law enforcement officers. An imposing security cordon consisting of officers from the national police and MINUSTAH has been noticed in the vicinity of the CEP local issue prevent spillage.
Source: Lenouvelliste (French)
Levanjiltv: English translation