7500 demonstrators in Guadeloupe
Around 7,500 people, "following the 2000 carnival group Akyio," according to the prefecture, and "more than 20,000 or 25,000", according to Elie Domota leader of LKP, participated Saturday in the event held at Pointe-à-Pitre by collective.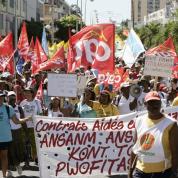 "Despite the misinformation they have made, we were able to mobilize in four days," said Elie Domota during the dispersal of the demonstration, which took place without incident. The group caranavalesque and identity Akyio is a member of the collective.
"There are people who are paid to misinform, to discredit the LKP," said Elie Domota. "They want to see if we are mindful, but we do not fret because we've already won," said the leader of the group.
Elie Domota called for "general meetings in business and in the neighborhoods" and "all mobilizations" to be organized around the anniversary of the LKP. This group was made known by triggering January 20, 2009 a general strike paralyzing the island for 44 days.
To facilitate participation in its manifestation, the LKP filed a notice of indefinite general strike beginning Saturday. The group has never publicly reported in its local call, or Saturday or during the preceding days.
After announcing in an interview Friday in Paris will be an appeal to "general strike for January 20, Saturday morning on Europe 1 it has lowered its ambitions, speaking engagement and just wondering, oddly, the date of January 20 has been advanced.
For its part, the prefecture said that the number of demonstrators it counted Saturday was less than the 10,000 counted at the previous demonstration of the LKP in November. This was accompanied by a notice of general strike two days, which had led to no consequences for the economy of the island.
The LKP group includes all the unions island except the CFTC as well as associations and cultural identity and political parties.
Source: Lefigaro (French)
Levanjiltv: English Translation