N. Ireland Leader in Scandal to Step Down TemporarilyLONDON (Jan. 11)
-- Northern Ireland's Protestant leader will temporarily step down in the wake of a scandal over his wife's affair with a 19-year-old man, the speaker of the regional assembly said Monday.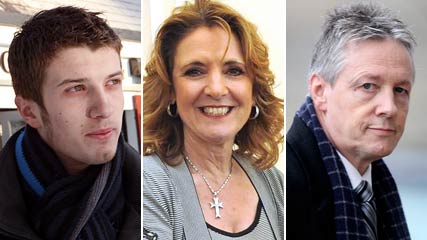 Northern Ireland's First Minister Peter Robinson has been under pressure since it was revealed that his wife, Iris, had a teenage lover whom she helped raise tens of thousands of pounds (dollars) for his business. The revelations have angered Robinson's socially conservative Protestant power base and threaten to undermine the Democratic Unionist Party's partnership with the Catholic Sinn Fein.
The coalition is already badly strained by disagreements over who will run the province's justice service. Officials in Britain have expressed concern that the turmoil could hurt the peace process.
Northern Ireland First Minister Peter Robinson, right, will step down temporarily while facing a scandal involving an affair between his wife, Iris, center, and a 19-year-old, Kirk McCambley, left.
Northern Ireland has recently seen a surge in attacks blamed on dissident republican militants. Last year, IRA dissidents killed two soldiers and a policeman. They were the first killings of British security forces in Northern Ireland since 1998.
On Friday, a prominent Catholic policeman was badly injured when a bomb hidden beneath his car exploded.
Assembly speaker William Hay told surprised politicians at the neoclassical regional assembly building in Stormont that Robinson would relinquish his post for six weeks, to be replaced by his Protestant colleague Arlene Foster.
An official with Robinson's Democratic Unionists, the largest party in Northern Ireland's assembly, suggested that the embattled leader could stay away even longer, telling the AP that Robinson's absence could be extended for another six weeks with legislators' approval.
"The party has the opportunity to either re-nominate him or extend that six-week period with support of the assembly," the official said, speaking on condition of anonymity because he did not want to be seen to pre-empt Robinson's statement on stepping aside, which has been scheduled for mid-afternoon. He noted that Robinson would remain at the head of the Democratic Unionist Party.
Immediately before the announcement of Robinson's resignation, deputy party leader Nigel Dodds, flanked by prominent party members including former leader Rev. Ian Paisley, said they were offering Robinson "our wholehearted support" despite what Dodds called "attempts by members of the press and our political opponents to press the right honorable Peter Robinson to resign as party leader."
Robinson has denied any wrongdoing and said he had told his wife to pay back the loans she secured for her young lover.
Source: Sphere