Central Floridians Enjoy Snow, SleetORLANDO, Fla.
-- Sleet and snow flurries fell in Central Florida Saturday morning as numerous of Local 6 viewers sent images of what a winter wonderland looks like in the Sunshine State.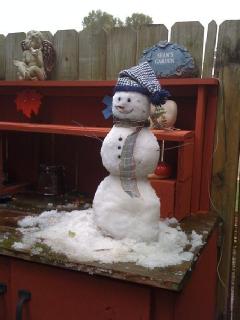 Local 6 viewers in Marion and Flagler counties reported light snowfall before 6 a.m. Saturday, alhtough it did not accumulate. Meanwhile, sleet in Volusia County forced officials to cancel a bass fishing tournament.
Local 6 meteorologist Tom Sorrells said on Friday that moisture would creep into the Orlando area early Saturday morning.
"It will be cold enough that some of this could have sleet or maybe a snowflake mixed in," said Sorrells, who added that the focus will then turn to the frigid temperatures.
"The cooldown is on. We're talking about another arctic outbreak," Sorrells said.
A hard freeze again hit Central Florida early Sunday morning, with lows in the upper 20s, prompting the Church of Christ located at 1450 Daniels Road in Winter Garden, to open a shelter.
The overnight low Monday morning is forecast to be 28 degrees, and the cold weather is leaving many tourists frustrated.
Mark and Barbara Willard were at home in Wickford, England, two weeks ago checking the weather forecast on the Internet before packing for their trip to Orlando -- sunny and 70 degrees.
On Saturday afternoon, they had the hoods on their brand new coats pulled tight around their heads as the walked down the International Drive tourist strip. The weather: 35 degrees and cloudy with a chance of icy rain or even snow.
"The good news is two days after we go home we're off to Jamaica," said Mark Willard.
The bad news is they paid in advance for theme park tickets and instead spent more time at shopping malls buying winter clothing -- a few hundred dollars worth, he said.
Across Florida, the weather was freakishly cold for a state that's a winter respite for so many. There were snow flurries spotted in several parts of the state, as far south as Naples on the gulf coast. In Miami, the temperature was forecast to drop just below freezing overnight and threatened to break the record for low temperatures in the city.
In perhaps a bit of an understatement, Melbourne-based National Weather Service forecaster Bob Wimmer said it was an "unusual weather event."
"I walk my pups at 5:30 before I come in on day shift and those three little Yorkies are not happy," he said.
For other parts of the country, the weather was less unusual for winter, but still harsh.
In Vermont, state police said a snowmobiling accident on a partially frozen lake killed three people Saturday, including a 3-year-old girl.
Police said three snowmobiles carrying a total of six people went through ice on Lake Dunmore near Salisbury at around noon Saturday. Killed were: 50-year-old Kevin Flynn, of Whiting; 24-year-old Carrie Flynn, of Whiting; and 3-year-old Bryanna Popp.
An ice jam along the Mississippi River prompted the National Weather Service to issue a flood warning for southwest Illinois and northeast Missouri. The weather service said the river was near the 16-foot flood stage in Hannibal, Mo., on Saturday.
And the ferry that serves as the only connection between western Kentucky and eastern Missouri was shut down Saturday afternoon because of ice in the harbor and Mississippi River. Kentucky Department of Transportation spokesman Keith Todd said with temperatures expected to remain below freezing, operations for the Dorena-Hickman Ferry would be evaluated daily to decide when the crossing can resume.
Amtrak said some trains between Chicago and Denver and between St. Paul, Minn., and Seattle wouldn't operate Saturday and Sunday because of cold, high winds and drifting snow.
As the arctic cold began to ease in some parts of the nation, residents in northern Florida were under a hard freeze warning with temperatures expected to drop to 20 or below overnight.
In the Florida Keys, a tropical paradise where people usually pay attention to the heat index, a term more often reserved for Northerners was being used: wind chill. Gusts were predicted to make the air feel like the upper 20s.
For Alfonso Idiaquez, the weather brought back flashbacks to the life he left behind in Cleveland seven years ago.
"It feels like we're living in Ohio," said Idiaquez, 43, of Kissimmee. "My son was laughing. He said, 'We need to buy shovels for the snow.'"
Marion White was not laughing. She was shivering uncontrollably from head to toe as she and her family walked down Orlando's International Drive.
"It ruined our holiday," said White, 46, of Dublin, Ireland. "It's absolutely dreadful."
High temps on Monday and Tuesday should be near 60 in Orlando, and a gradual warming trend will then set in, with temperatures on Friday reaching a high of 72 degrees, which is normal for this time of year.
Source: Clickorlando.com