Haitians in country illegally can stay
WASHINGTON
– The Obama administration said Friday it will allow Haitians who were already in the U.S. illegally to remain for the time being because of their country's catastrophic earthquake.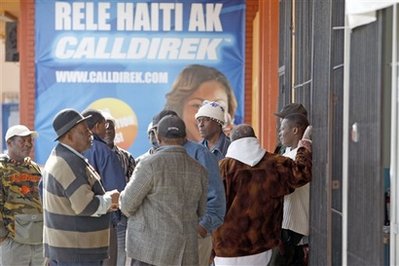 Homeland Security Secretary Janet Napolitano granted the temporary protected status on Friday, two days after she temporarily halted deportations of Haitians, even those already in detention. The protection is only available to Haitians already in the country as of last Tuesday, and allows them to stay and work for 18 months.
Napolitano told reporters that the temporary legal status is an act of compassion.
"It's a horrible thing that has happened to Haiti," the secretary said.
Temporary protected status is granted to foreigners who may not be able to return safely to their country because of a natural disaster, armed conflict or other reasons.
Haitians in the U.S. illegally have pleaded for years for permission to stay, work and send money home — the same treatment the federal government gave Central Americans in 1998 after Hurricane Mitch devastated their region.
The pleas have been denied despite four tropical storms in 2008, massive floods almost every other year since 2000 and the long-running political strife that has prompted thousands to seek asylum in the U.S.
About 30,000 Haitians have orders to leave the U.S., according to Department of Homeland Security statistics. Many others are appealing their cases.
The federal government estimates there are about 100,000 to 200,000 Haitians living in the U.S. illegally, Napolitano said.
Napolitano declined to say Friday whether the U.S. would continue to interdict boats carrying Haitians who try to flee to the U.S. She said mass migration was not happening.
"The last thing Haiti needs are people leaving the country at this time who will not qualify" for the temporary legal status in the U.S., she said.
Among those in the U.S. who could benefit from the relief is Yvrose, a soft-spoken mother of two in Miami who declined to give her last name for fear of hurting her asylum case.
Yvrose fled Haiti in 2003 after men searching for her husband — a member of a political opposition party — beat her so badly she ended up unconscious in the hospital.
She said family members spirited her by boat to the U.S., where she applied for political asylum. She has not been legally permitted to work.
Yvrose, 31, said she hopes to find a job to help her family.
"I need so much to work for my family in Haiti and to put food on the table for my kids here," she said through an interpreter Thursday at Catholic Chairities in Miami, her voice heavy with exhaustion.
Those who favor a stricter U.S. immigration policy have argued giving temporary protected status is equivalent to granting amnesty.
TPS given to Salvadorans, Nicaraguans and Hondurans following Mitch was repeatedly extended for more than a decade, presumably long after those countries were able to rebuild.
About 350,050 immigrants from El Salvador, Honduras, Nicaragua, Somalia and Sudan are living in the United States under TPS, according to DHS statistics. Most are from El Salvador.
Mark Krikorian, executive director of the Center for Immigration Studies, said the protection "has been turned into something much more permanent."
"And while we probably should grant TPS to Haitians who were here before the earthquake," said Krikorian, whose group supports strict immigration laws, "we really need to make sure it's temporary."
The news was welcomed in Haitian communities in the U.S.
Marleine Bastien, executive director of Haitian Women of Miami and a long-time advocate of TPS, said Friday evening she was extremely relieved to hear Napolitano's announcement.
"It comes amid a lot of agony, a lot of sadness and a lot of death," said Bastien, who was still waiting for word from some of her relatives in Haiti. "But it is one less thing for people to worry about."
Jean-Renaud Guillaume, pastor of the Full Gospel Apostolic Church of God in Los Angeles, said the decision to grant temporary protected status will help many undocumented Haitians in this country.
"They have no place to go back to," Guillaume said, "and no way to go back there."
___
Associated Press writer Laura Wides-Munoz in Miami and Amy Taxin in Los Angeles contributed to this report.