Big moments from the Haiti telethon
After a heartbreaking week for Haiti, which suffered countless deaths and layers of devastation following the January 12 earthquake, entertainment heavyweights pulled together to bring much-needed relief.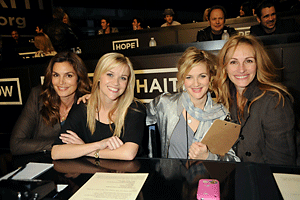 During Friday night's multinetwork telethon, MTV's "Hope for Haiti Now: A Global Benefit for Earthquake Relief," the most-moving moments highlighted the country's overwhelming need and the creative and highly personal effort to bring help.
Phone lines were manned by stars like Reese Witherspoon and Stevie Wonder, who connected with donors during the two-hour telethon. "A whole lotta little makes a whole lotta lots," said Wonder, of the collective efforts, while Steven Spielberg asked a caller how they'd been feeling since the earthquake hit last week. Julia Roberts bonded over children and reassured donors, "we're all doing what we can to keep them warm, safe, loved, and dry, and you're part of that."
The telethon also included unusual collaborations like Neil Young and Dave Matthews, who partnered for Hand William's "Alone and Forsaken." But one of the most-surprising trios included unlikely harmonizers Sheryl Crow, Keith Urban, and Kid Rock. Their moving rendition of "Lean on Me" managed to combine both country and rock to reach out to a wide music audience demographic.
Rihanna and Jay-Z were joined onstage by U2's Bono and The Edge in one of the most-anticipated collaborations, a performance of "Stranded (Haiti Mon Amour)," a brand-new song that was recorded for the event. Rihanna held up the chorus of "not going to leave you stranded," and Bono lent his trademark sound and tinted glasses and even belted out a Rihanna-inspired "eh, eh, eh" (from her hit song, "Umbrella.")
The video segments from Haiti, like Anderson Cooper's footage of a stunning rescue of a buried 15-year-old girl, brought home the devastation and the determination of the relief workers. In one of the most-heart-wrenching moments of the telethon, a montage showed dust-covered children pulled from rubble and Haitian families looking out at the destruction, hoping to find loved ones as the days rolled on.
In a soulful version of Leonard Cohen's "Hallelujah," Justin Timberlake sang from a piano bench had a little help from two guitarists (one being Matt Morris, an artist Timberlake recently signed to his label). The bare-bones performance by the singer, who was seated next to Bradley Cooper during the telethon, made full use of his voice and hardly needed the guitar accompaniment.
An especially stirring moment came from Haiti-born singer Wyclef Jean. In addition to a performance that began with "Rivers of Babylon" and evolved into a Creole song called "Yele" and a call to "rebuild Haiti," the musician passed a message to his homeland. "In the words of Wyclef Jean," he said, "From the ashes, we shall rise."
The Hope for Haiti performances raised money for Red Cross, UNICEF, and Wyclef's Yele Haiti Foundation. For those that missed the full performances, they are available on iTunes and will benefit relief aid.
Source: Yahoo.com