Heavy snow, ice bury southern Plains, cut power
By TIM TALLEY, Associated Press Writer Tim Talley, Associated Press Writer
OKLAHOMA CITY
– A storm that toppled power lines, closed major highways and buried parts of the southern Plains in heavy ice and snow began moving into the South early Friday, leaving tens of thousands of people in the dark — possibly for several more days.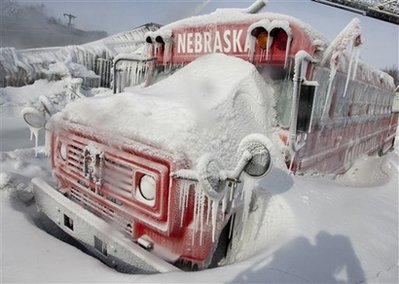 Winter storm warnings were in effect from New Mexico to North Carolina, and Arkansas Gov. Mike Beebe declared a state of emergency. The storm threatened to dump up to a foot of snow across the region after leaving 13 inches in the northern Texas Panhandle, where nearly all of Interstate 40 from the Texas-Oklahoma line to New Mexico was closed.
Heavy ice brought down electrical lines and trees limbs, leaving nearly 142,000 homes and businesses in Oklahoma without power Friday, the Oklahoma Department of Emergency Management.
"In some places, as far you can see there are hundreds of utility poles on the ground," said Andrea Chancellor, spokeswoman for Public Service Co. of Oklahoma. She said it could be five days before electricity is restored to all customers.
More than two dozen flights were canceled Friday morning at Oklahoma City's main airport. The snow, sleet and freezing rain were expected to crawl east through Friday. In Arkansas, as much as a foot of snow could fall near the Missouri border, northern parts of central Tennessee could see up to 8 inches and western North Carolina could get hit with a foot of snow, according to the National Weather Service.
More snow also was expected in Texas and Oklahoma, where dozens of shelters were opened for those who needed a warm place to stay, including First United Methodist Church in Hobart, about 120 miles southwest of Oklahoma City. Pastor Kyle Clark said downed trees and utility poles littered the slick roadways and most of the town of about 4,000 residents had no electricity.
"We've got gas heat and we are illuminating the place with candles," Clark said late Thursday.
Farther southwest in Altus, home to about 7,000 residences and businesses, power was out except at the hospital and other emergency operations with generators, said emergency management director Lloyd Colston.
More than two dozen flights were canceled Friday morning at Will Rogers World Airport in Oklahoma City following the cancellation of more than 100 flights Thursday due to concerns about ice buildup on planes, according to the airport's Web site. Flights were also canceled Thursday in Tulsa and in Texas out of Lubbock, Amarillo and Wichita Falls, officials said.
The Texas Department of Transportation closed I-40 east and west of Amarillo on Friday and a few other major roadways. Downed power lines and icy, dangerous road conditions also temporarily closed a 50-mile stretch of I-44 southwest of Oklahoma City and parts of I-40 in far western Oklahoma and eastern New Mexico on Thursday.
_____
Associated Press reporters Betsy Blaney in Lubbock, Texas, and Heather Clark in Albuquerque, N.M., contributed to this report.