Two dead in helicopter crash in Dominican Republic
Haiti: Two men, probably Americans, were killed on the night of Thursday to Friday in the Dominican Republic in the crash of their helicopter came from Haiti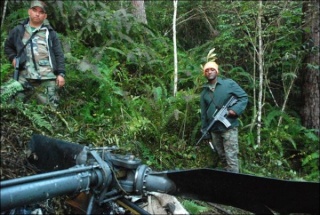 where aid continues to flow to help the earthquake victims, said the local authorities.
"Until now we have two bodies, a pilot and copilot," he told AFP spokesman for the Dominican Institute of Civil Aeronautics, Pedro Jimenez. These respectively Johen Ward and James Jelo, "he added.
The R44 helicopter matricule 7535F crashed around 19:00 (2300 GMT) Restauracion, 305 km northeast of Santo Domingo in the province of north-western border with Haiti. He departed the Haitian capital Port-au-Prince and traveled to Santiago, in the northern Dominican Republic, according to the same spokesperson.
Mr. Jimenez said that "apparently, was a helicopter rescue in Haiti", January 12 devastated by an earthquake that has killed 212,000, according to latest official figures.
Source: Lenouvelliste (French)
Levanjiltv: English Translation