100 of 4000 escaped from prison in Port-au-Prince resumed
Haiti: Haitian police arrested 100 of the 4,000 inmates who escaped the main prison of Port-au-Prince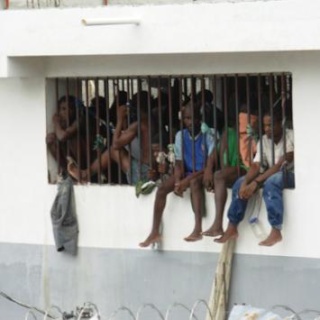 when it was destroyed by the devastating earthquake of January 12, announced Thursday a spokesman.
"One hundred of them have already been arrested in different parts of the country," said a spokesman for the police, Frantz Lerebours, "we now seek other".
All of the 4,000 prison inmates escaped in the chaos resulting from the earthquake, said Lerebours, which could indicate whether they were suspected of having committed other crimes since then.
Among the escaped prisoners are incarcerated for violent crimes such as murder or rape.
The escapees were arrested in different areas outside the capital and are held in the regions concerned, Lerebours said.
He urged Haitians living in camps after the destruction of their house to notify police if they saw the escapees in the camps.
The earthquake killed more than 200,000 dead and more than one million homeless, estimated by the Haitian government and international aid agencies.
Source: Lenouvelliste (French)
Levanjiltv: English Translation