An aid truck catches fire, the population pétionviloise prevents fire
A Petion-ville, east of the capital, a humanitarian aid truck caught fire near the Place St-Pierre. The affected population has prevented the fire from spreading, found PNH.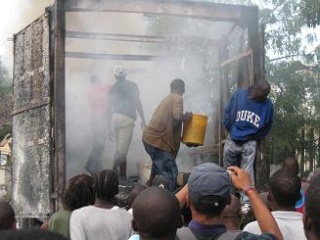 The truck was carrying, we learned, mattresses and toiletries to be distributed this afternoon to homeless housing on the Place St-Pierre, near the Catholic church bearing the same name.
Leading to the Gregory Street to 5pm, the truck caught an electric cable hanging along the avenue and the fire broke out immediately after the shock, it was found.
The population pétionviloise was immediately rushed with buckets of water, earth, fire extinguishers and other measures to prevent the flames from spreading. Everyone was trying to find some water, children, adults, young men and women were busy contain the fire.
In the vicinity was fortunately a fire hydrant and an officer CAMEP released water that has flowed strongly.
While firefighters improvised have gathered the precious liquid into whatever they could find and a few minutes later, they eventually master the flame to the cheers of the crowd of curious onlookers, humanitarian workers, UN officials and journalists who were there.
Only after a fire truck arrived. But they were booed by people who are accused to arrive as usual when it's too late.
According to witnesses on the spot, this example is a fine example of solidarity which is capable of exercising Haitians in difficult times.
Source: DD / HPN (french)
Levanjiltv: English Translation