Prime Minister Netanyahu welcomed a Haitian childHaiti:
Israel was one of the first countries to have flown to our aid after the devastating earthquake of January 12.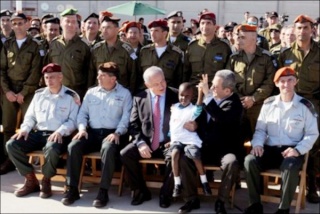 A battalion of armed forces was deployed on a humanitarian mission and providing assistance that was appreciated.
In return for this battalion, Prime Minister Benjamin Netanyahu was still opportunity to demonstrate his interest in our suffering country.
In the plane that brought the military had also traveled the small Woodley Elysee from a modest family of La Gonave. Which is the beneficiary of a program established by Save a Child's Heart for children with heart defects.
Mr. Netanyahu came to the airport to congratulate the soldiers for their work, warmly greeted the small Elysee and even took on its knees
Like all acts of politicians are signifiers, many feel that this attention, Netanyahu will say again, Haiti how he sympathizes with his plight.
Woodley Elysee is the 3rd child sent to Israel for treatment of fatal congenital heart defect by Save a Child's Heart from voluntary contributions of Haitians. The 2 that preceded it, and Marithza Woodsheen have been made and are already back in good health.
Recall that Save a Child's Heart http://www.saveachildsheart.org/ is an non-profit that supports needy children suffering from heart defects
Source: Lenouvelliste (French)
Levanjiltv: English Translation