Heavy snow continues with more expected
Having already earned a place in Philadelphia weather history, a mega-coastal storm continues to clock the region with heavy snows that could push storm totals to 2 feet.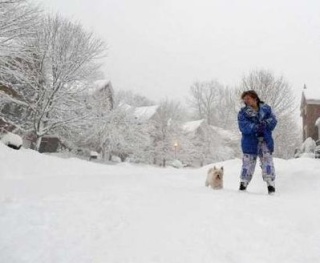 At 10:40 the National Weather Service said that a heavy snow band had set up along the I-95 corridor, and coupled with winds gusting past 40 m.p.h. travel was difficult, if not utterly inadvisable.
Whatever you had planned today, it's safe to consider it canceled, unless those plans included eating and shoveling.
At 7 a.m., 17.8 inches already had been measured at Philadelphia International Airport, and that total is likely to increase several inches with the afternoon report.
This marks the first time in the history of recordkeeping, dating to 1884, that Philadelphia has had two snowstorms of this magnitude in the same season. The official total for Dec. 19-20 was 23.2, and this one is likely to be close to that.
The seasonal total of 45.0, and counting - heavy snow continues and more is in the forecast for midweek - puts the winter of 2009-10 at No. 6 on the all-time Philadelphia list.
The storm generating all the snow was intensifying off the Virginia-North Carolina coast this morning. It is expected to pound the Shore with heavy snow all day. The heaviest stuff should end sooner inland, but blowing and drifting will persist on a harsh day for shoveling.
Officials are pleading: Stay the heck home.
Philadelphia and Camden County have declared snow emergencies, meaning only official and necessary vehicles are allowed on the roads. As of 9:30 a.m., Philadelphia's four surrounding counties reported bad road conditions but, no major incidents.
Governor Rendell declared a disaster emergency for Pennsylvania this morning and made the National Guard available to assist state police in patrols and incident response.
In Somerset County, in the southwestern part of the state, about 1,200 motorists were stranded overnight on the Pennsylvania Turnpike after two 18-wheelers jackknifed, according to Pennsylvania State Police.
The incident started at 9:30 p.m. Friday and by daybreak emergency workers used snowmobiles to deliver gas, water and other supplies to those stuck in the accumulating snow.
More than 160,000 households across Pennsylvania are without power this morning, with the majority of outages located in southwestern part of the state, according to the Public Utilities Commission.
About 60,000 people in Cape May and Atlantic Counties - half of Atlantic City Electric's customers - are without power this morning, even as it continues to snow.
The outages were caused by wind and heavy snow on trees that fell on lines, said spokeswoman Bridget Shelton. The company is trying to restore power, but struggling with access to equipment.
Astonishingly, Philadelphia International Airport remained open.
Even so, said spokeswoman Victoria Lupica, no airlines were lining up to use the runways. She said most had no plans to operate flights until at least 2 p.m.
About 400 staffers and 200 pieces of snow-removal equipment had been working nonstop since Friday evening. "Our snow removal operations are continuous," she said.
She said officials were planning a conference call at around 11 a.m. to assess the situation.
"We're constantly communicating with the airlines," Lupica said. "Currently, our expectation of 75 percent-plus cancellations is holding true."
Because so few planes came into Philadelphia on Friday, few passengers were stranded there.
"That's a credit to the airlines. Most of them managed their schedules and communicated to their customers," Lupica said.
As for travelers that did have to spend the night in the terminal, hospitality crews handed out pillows, blankets, water and food.
Lupica stressed that passengers today should contact their airline before coming to the airport expecting to board a flight.
They also can consult the airport's toll-free information line, 1-800-PHL-GATE, or its Web site, www.phl.org for specific flight information.
SEPTA has suspended all bus service until further notice, including the priority bus routes. Most service on SEPTA Regional Rail lines has been suspended as of 10 a.m. Still running are the West Trenton R3, Media Elwyn R3, Paoli Thorndale R5, Norristown R6, and Airport R1 which is operating on an hourly schedule, said spokeswoman Jerri Williams.
Broad Street Line and Market-Frankford El service are running without problems. Trolleys are running with some delays. Norristown High Speed line service has been suspended. All CCT Paratransit service has been canceled. NJ Transit is open, but warns of delays and cancellations.
Amtrak's 30th Street Station was open, but many trains were canceled.
According to an updated schedule for today, several Keystone trains were running from Philadelphia to New York, but Acela Express and Northeast Regional trains were not.
By mid-morning, NJ Transit had suspended service on its 300, 400, 500 and 600 bus lines in South Jersey, as well as the 319 line from Atlantic City to New York City. The Camden-Trenton light-rail line was running with up to 15 minute delays, said spokeswoman Penny Bassett Hackett.
NJ Transit is "cross-honoring" passes and tickets from buses to rail to help passengers get where they need to go,
Delaware River Port Authority's PATCO line is running on a reduced snow schedule with trains every 20 minutes.
Though most activities scheduled for today were canceled or postponed, organizers for at least one major event said they would soldier on.
The Philadelphia Auto Show remained open for its last weekend, and apparently the lure of all the shiny new vehicles was too much for some to resist.
When the doors opened the Convention Center at 9 a.m. today, said spokeswoman Andrea Simpson, five people were standing in line.