Moved: They returned to Port-au-Prince
The rampant poverty in the Haitian campaign pushes a part of half a million displaced return to Port-au-Prince.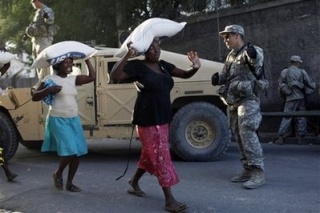 What may complicate reconstruction projects in the capital.
A fiftieth that there are less than two weeks, had left the capital to keep his son in Les Cayes, arrived Saturday morning in Port-au-Prince home of relatives where she lived to the surprise of those who point out that the "earthquake is not finished."
Like this woman, there are thousands among the 500 000 displaced to return to the path of the capital, driven by poverty prevailing in the province and attracted by employment opportunities offered by Port-au-Prince.
"Things have stabilized in the capital, there is less tension and there is no activity in the towns," said a man returning from Marchand Dessalines, 3 weeks after the disaster.
In addition, in provincial towns, the distribution of food aid is almost nonexistent, complained the displaced returning to the rubble pile in the refugee camps and rows of food distribution.
The Haitian authorities are alarmed by the massive return of victims in Port-au-Prince, which can not accommodate a new influx of population, has warned Prime Minister Jean-Max Bellerive.
The local and international authorities intended to take the destruction of Port-au Prince to rebuild the city better and to decentralize the country. What is difficult with the return of the population.
Source: DD / HPN (French)
Levanjiltv: English Translation