The Haitian media struggling to emerge in the rubble
How will the press in Haiti today? Mal. More than half the stations do not emit, the TVs are struggling to reignite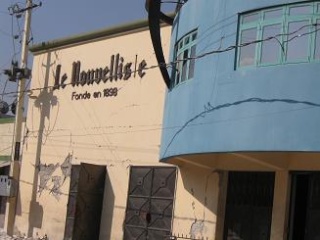 the only two national newspapers (Le Matin and Le Nouvelliste) do not print more.
The Haitian press struggling to emerge in the rubble after the earthquake of January 12. Like other institutions, has paid a heavy price in terms of casualties and damage.
26 dead and 2 seriously injured, it stocktaking Jacques Desrosiers Association of Haitian Journalists (AJH), contacted by HPN. A review to be completed by the number of journalists who left the country, or who found refuge in the provincial towns.
Several radio stations have collapsed as Magik9, Radio Tropic FM, Radio Maximum, RCH 2009, Guinen Radio TV, Radio Galaxie, Inspiration FM, Radio Ibo and others are cracked or like Radio Caribbean Radio Light. In cities like Leogane province, Jacmel, most radios have been virtually blown.
After the disaster, the media online as PNH were rare to withstand the shock wave with the radio station Signal FM, the only one to remain on air immediately after the earthquake.
Three weeks after January 12, the radio trying to reorganize their programming it is completely shattered. Initially, some stations were only relay to pass messages, others are back on air with new editions tailored to the occasion. Most finally do more than broadcast music or relay information from French television channels.
Television stations, which were more than twenty before the earthquake, struggling to reignite, apart TVC, Radio TV Guinen, National Television, TV Channel or Blue Superstar. Most relay of international channels, French and American cover multiple press conferences governmental or retransmit football matches.
It should be noted that several international news organizations, including European and American (Reporters without Borders, Internews Europe, Internews America, International Media Support), have offered their support for Haitian journalists.
Since January 21, Reporters Without Borders has set up a press center with computers, scanners, printers and Internet connections, a total of 20 workstations and a room of 40 seats.
Internews Europe plans to relocate its share of media whose premises were destroyed.
Radio France has helped several Haitian radio stations to resume broadcasting, for example, Radio Ibo whose studios have been transferred to its owner, Herold Jean François.
RFI in turn produces special programs with local radio stations for the earthquake.
These organizations have also lend their support to media owners by providing equipment.
Furthermore, associations of media owners to multiply the efforts with the government to find funds from international donors to resume their activities.
Source: DD / HPN (French)
Levanjiltv: English Translation