The Bahamas is to import agricultural products directly from Haiti, Prime Minister Hubert Ingraham confirmed.
He said The Bahamas wants to grow more of its own food but it cannot produce an adequate amount for domestic consumption and the hotel sector.
"It will benefit The Bahamas if crops are imported from Haiti because fewer Haitians would leave home in search of jobs if they had employment opportunities in Haiti," he said in an interview with BIS and ZNS following the IDB Forum in Haiti last weekend.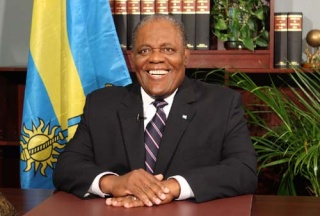 Prime Minister Ingraham also met privately with Haitian President René Préval (above) at the National Palace, Port-au-Prince, during which time they discussed topics of mutual interest.
On his trip to Haiti, he was accompanied by Christine Thompson, Chief Economist, Ministry of Finance, and Haiti's Ambassador to The Bahamas His Excellency Louis Harold Joseph. They were met in Port-au-Prince by the Bahamas' Ambassador to Haiti His Excellency Davy Rolle.
Ingraham pointed out that The Bahamas is selling in its food stores Haitian mangoes imported from Miami.
"Why can we not import the mangoes directly from Haiti to Nassau?" he asked. "Would it not be cheaper to do so?"
The same goes for vegetables grown in Haiti, he said.
"We have had complications in terms of certifying fruits grown in Haiti, as an example," said the prime minister. "The Americans have found a way to deal with it, why can't we?"
Ingraham said he promised the Haitian president that by the end of the year, crops such as mangoes should be coming directly from Haiti without jeopardizing The Bahamas' agricultural sector.