197 people charged with murder over Philippine massacreMANILA (AFP)
– A former close ally of Philippine President Gloria Arroyo and 196 other people were on Tuesday charged with murder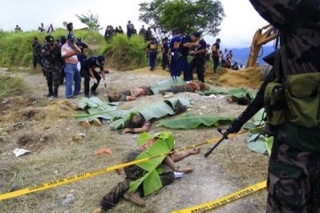 over an election-linked massacre that horrified the nation, prosecutors said.
Andal Ampatuan Snr, the head of a Muslim clan and the former governor of Maguindanao province where the slaughter of 57 people occurred last year, was among those charged, according to papers filed in a Manila court.
In total, 197 people were charged, including other senior clan members, local government officials and policemen who allegedly helped organise the killings, as well as thugs accused of abducting and shooting the victims.
"All the conspirators are answerable as co-principals regardless of the extent or degree of their participation," prosecutors said in a lengthy report outlining their case against the group.
However, only 11 of those charged are in custody, with most of the others still on the run nearly three months after the November 23 killings, according to police.
"The rest are still at large, but our evidence against them is strong," said Senior Superintendent Benito Estipona, operations chief with the national police force's Criminal Investigation and Detection Group.
Those charged on Tuesday were in addition to Ampatuan Snr's son and namesake, who is already standing trial for murder after being accused of orchestrating the killings. He has pleaded not guilty.
Prosecutors alleged at Ampatuan Jnr's trial that he and about 100 of his gunmen abducted and killed the victims to stop a rival, Esmael Mangudadatu, from running against him for the post of Maguindanao governor in May elections.
Mangudadatu's wife and pregnant sister, as well as at least 30 journalists travelling with them, were among the 57 killed.
Mangudadatu had sent his relatives to an election office to register his candidacy, but did not go himself after being warned the Ampatuans intended to stop him.
Ampatuan Snr had been the governor of Maguindanao for most of the past decade, and was a close ally of Arroyo who delivered crucial votes for her in the 2004 presidential election.
Ampatuan Snr and Jnr, as well as other clan members, had been members of Arroyo's ruling coalition until they were expelled over the massacre, even though they had fearsome reputations as warlords.
Arroyo's government had supplied the Ampatuans with weapons and allowed them to run their own private armies in Maguindanao as part of a controversial strategy to contain a Muslim separatist rebellion in the southern Philippines.
The prosecutors' case, as outlined in the report released to the media, made it clear they believed the Ampatuan family had planned the massacre well in advance.
"From the witnesses presented by complainants, it can be deduced that the commission of the crime was planned deliberately by the perpetrators and that, until its consummation, there was an inexorable resolve to kill," they said.
"There was also a considerable period of time that gave said assailants the opportunity to reflect and meditate on their intended acts.
"However, despite such period of time during which they could have withdrawn from their sinister plot, they still decided to consummate the crime."
Among those charged on Tuesday was Zaldy Ampatuan, another son of the patriarch who until the killings was governor of a Muslim autonomous area in the southern Philippines that includes Maguindanao province.
The government had already charged Andal Ampatuan Snr and Zaldy Ampatuan with rebellion after it briefly imposed martial law in Maguindanao to stop the the clan members from resisting arrest and fighting back.