U.S. government shuts down a fourth day as blizzard passes Feb. 11 (Bloomberg) --
The U.S. government will close for a fourth day while a blizzard moves out over the Atlantic Ocean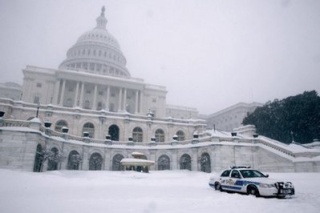 after setting snowfall records from Washington to Philadelphia and triggering power outages and havoc for commuters.
Schools along much of the Washington to Boston corridor as well as federal agencies in the nation's capital will remain shut for another "snow day" after the second of two back-to- back storms crippled air, rail and road traffic.
The U.S. National Weather Service lifted its blizzard warning for New York at 6 a.m. local time. Schools in New York City will re-open today after the Department of Sanitation deployed 1,600 snowplows and 2,100 workers to clear major roads.
Clear skies and temperatures just above freezing are forecast to start the melting process along the eastern seaboard, where an average of 12 inches (30 centimeters) fell from New York to Baltimore, said Andy Ulrich, a meteorologist with AccuWeather.com in State College, Pennsylvania.
"The sun will be out fully and there won't be a cloud in the sky," Ulrich said in a telephone interview. "The sun is getting stronger as we approach spring so there will be some melting."
Grounded Flights, Outages
The storm yesterday caused the cancellation of 5,700 flights across the U.S. and at least 1,100 more today. It also caused power outages from North Carolina to New Jersey for at least 72,000 customers, according to utilities.
UBS AG, Switzerland's largest bank, sent home an estimated 3,000 workers in New York, New Jersey and Connecticut yesterday amid the blizzard, advising them to take public transport if possible.
New Jersey Transit was set to resume normal services for commuters today while Long Island Rail Road said it was preparing for regular rush-hour services after blizzard conditions created chaos and delays for commuters.
Natural gas futures fluctuated in New York as heating oil climbed on higher demand. Heating oil for March delivery rose 0.5 percent on the New York Mercantile Exchange.
Delaware and Maryland were hit hard, with 27,000 Delmarva Power customers without power by nightfall yesterday, said Bridget Shelton, a spokeswoman for the company, a subsidiary of Pepco Holdings Inc. It may take several days to restore power to all of them, she said.
"This is clearly a multiday event," Shelton said in a telephone interview. "The weather and the roads are contributing to an extended restoration effort."
Airlines Scramble
Delta Air Lines Inc., the world's largest carrier, expects operations in Washington and Philadelphia to be almost entirely halted through midday today. At least 460 more Delta flights are canceled for today, said Trebor Banstetter, a spokesman for the Atlanta-based company.
At Washington's Dulles International Airport, the snow was 26 inches deep, according to the National Weather Service, with 11 inches on the ground at Kennedy International Airport.
AMR Corp.'s American Airlines scrapped 180 flights today, said Tim Wagner, a company spokesman. US Airways Group halted 478 as well, said Valerie Wunder, a spokeswoman.
In Pennsylvania, closed interstate highways were expected to reopen by dawn today even with the setting of annual snowfall records, Governor Edward G. Rendell said.
Two tractor-trailer trucks that jackknifed on the I-78 highway yesterday left 170 vehicles were stuck in the snow, said Robert French, Pennsylvania Emergency Management Agency director.
The federal government announced the closing of agencies in the Washington area for a fourth consecutive day. Washington received 10 inches of snow yesterday, pushing the seasonal total to 54.9 inches, surpassing the mark set in 1898-99.
Snow Records
In Baltimore, 11.9 inches fell through the evening rush- hour, setting a new annual tally of 72.3 inches. That surpassed the 62.5 inches that fell in 1995-96, according to the National Weather Service in Sterling, Virginia.
The U.S. southern states of Louisiana, Mississippi and Alabama may get a sampling of what the Northeast has endured when a winter storm bearing snow moves through there, Ulrich said.
The National Weather Service in New Orleans issued a winter storm watch for sleet that could turn to snow for tonight through tomorrow afternoon. The watch was expanded to include all areas south of the Louisiana-Mississippi border to the Interstate 10/Interstate 12 corridor.
Ulrich said it is too early to forecast accurate totals for those states, which seldom see snow, though the weather service said amounts could reach as much as 6 inches.