Bill Clinton in New York hospital, sources say(CNN) --
Former President Bill Clinton was hospitalized in New York on Thursday after experiencing chest pain, two sources told CNN.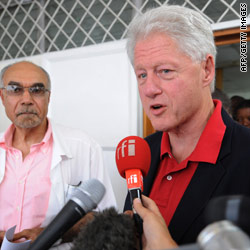 The sources did not know whether it was a "full heart attack."
The White House was told of the situation, a source close to the former president told CNN.
Clinton, 63, underwent quadruple bypass surgery in 2004 at New York-Presbyterian Hospital. Doctors in 2005 removed scar tissue and fluid that had built up after that surgery.
A spokeswoman for that hospital said she had not heard anything about the report.
In recent weeks, Clinton was overseeing the United Nations aid mission in Haiti after a January 12 earthquake struck there.
Source: CNN