Mourning, fundraising replace Haiti carnival
It is a manifestation of the Haitian spirit, the enduring buoyancy and optimism that has guided Haiti for more than 200 years.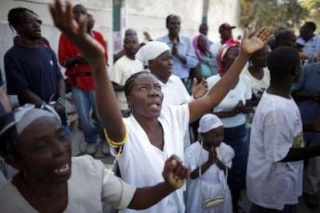 For as long as anyone can remember, carnival or kanaval has taken place. Until this year. Haiti carnival has now become a wake.
As quake-struck Haitians ended three days of national mourning and fasting Sunday, the satirical drumbeats of the traditional ``meringues'' ridiculing politicians and rivaling musicians that would have marked the beginning of the three-day carnival have been silenced.
They have been replaced with strings of sorrow, and cries to rise from the rubble and move forward -- avanse -- as Haiti continues to mourn its 200,000-plus dead: fallen artists, struggling neighbors, loving family, inspiring leaders.
Carnival would have ended Tuesday, the day before Ash Wednesday.
``Is Haiti finished? I say, No, No. We have to rise again,'' Miami-based T-Vice sings in Nou Pap Lage (We Won't Give Up). ``Don't be discouraged. I have faith, I have hope, the Haitian people will find victory. Together we shall overcome.''
If Haiti's pre-Lent colorful street party has always been the barometer of the Caribbean nation's ailing temperatures, then its cancellation by the government is a sign that the country barely has a pulse. Even if the spirit is willing, Haitians in Miami and on the island say the heart is just too crushed to cooperate.
``Are we broken? Yes,'' said Eric Gaillard, a devoted carnival reveler who captured on video the horror and screams of a collapsing capital from the balcony of his house in Port-au-Prince's Pacot residential neighborhood. ``The worst: there is no leadership. The government is not providing strong guidelines. It's not giving us a vision of hope, saying `Haitian people, Port-au-Prince is destroyed, we are going to construct again. We have a plan, be patient with us.' ''
Just as reggae and rhythm and blues artists have recorded tributes chronicling the destruction and despair following the Jan. 12, 7.0-magnitude earthquake, so have many Haitian artists.
Instead of preparing to perform live on the Champs de Mars, they are releasing their songs on iTunes, posting them on Facebook and YouTube and handing them to Haitian deejays to fill the airwaves -- and to help raise money for charities.
The dark cloud cast by the quake stretches from the empty carnival viewing stands lining the rubble-strewn streets of downtown Port-au-Prince to the empty dance halls of Miami, quieted since the quake.
``I don't think anybody's heart is on the music,'' Michel Martelly, Haiti's charismatic konpa king best known to fans as Sweet Micky, said from his Port-au-Prince home, where he and his wife Sophia were preparing to distribute food to the ravaged Bel-Air neighborhood, a stone's throw from the crumbled presidential palace.
``The dimension of this tragedy is beyond peoples' imagination.''
In Miami when the earthquake struck and unable to reach his wife, Martelly grabbed son Olivier, called in Haitian-born rapper Black Dada and saxophonist Jowee Omicil to help him capture the dispiriting moment in song.
``From far, I see my peoples dying. From far, I hear the kids, they're crying. They have no place to go,'' Olivier sings in English as his famous father and Black Dada pipe in: ``What's going on? Put your heads together. What's going on.''
Source: Miamiherald