American Airlines resumes Friday its commercial flights to HaitiHaiti:
The American Airlines announced Tuesday it would resume Friday flights between Miami and Port-au-Prince, the Haitian capital devastated by the earthquake of January 12.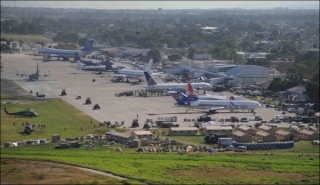 The Haitian authorities had announced on Monday reopened to commercial flights from Friday to the international airport of the capital, had hitherto reserved for humanitarian aid.
The first commercial flight will depart the airport of Miami (Florida, southeastern United States) to 6:40 (11:40 GMT) Friday.
"These flights represent important steps to help rebuild the country. The resumption of air service helps reunite families and provide a reliable connection to and from Haiti, said in a statement Peter Dolara, senior vice president of American Airlines charge of Mexico, Caribbean and Latin America.
American Airlines offers two daily flights from Miami and one from Fort Lauderdale, Florida also. A flight from JFK airport in New York will be provided four times a week.
As of March 12, its subsidiary American Eagle will offer a daily flight from Puerto Rico and two from the Dominican Republic: one from Santo Domingo and from Santiago.
Thousands of tons of food and aid and medical teams have passed through the airport in Port-au-Prince after the earthquake that claimed over 217,000 victims. Overwhelmed, the authorities have sometimes forced planes to turn back.
American Airlines and American Eagle have provided a total of 30 humanitarian flights since January 13, including carrying 180 tons of humanitarian aid and evacuating 700 people, according to American.
Source: Lenouvelliste (French)
Levanjiltv: English Translation