Rain and mud pours over Haiti's quake homelessPORT-AU-PRINCE, Haiti
– A heavy downpour sent the throngs living beside Haiti's shattered national palace cowering under tarps early Thursday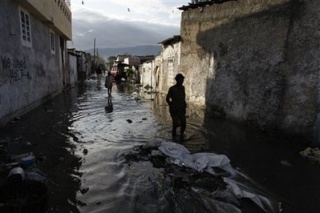 as the rush of water made much of the camp of earthquake victims impassable — an ominous foretaste of the rainy season to some.
Amputees struggled to maneuver through mud on crutches and wheelchairs.
Many in the makeshift tent cities housing nearly 600,000 people in Haiti's capital still live without even plastic tarps, which the international community is trying to get to everyone by May 1.
So when the rain comes, bed sheets spread on sticks as protection from the sun quickly get soaked and people move in temporarily with neighbors who have waterproof tents. The lucky actually have beds off the ground.
"It's hard to keep my kids clean. There's too much rain, too much dirt," said Joseph Dukens, 25, at the camp beside the national palace.
He pointed to his baby daughter, who had her leg amputated below her hip. "It's only going to get worse."
The government, aid groups and foreign governments have been wrangling for five weeks over how to housing earthquake survivors, but neither the weather nor the people are waiting.
Makeshift camps have hardened into shantytowns, adding a new dimension to the capital's teeming slum life with an extra helping of disease, hunger and misery brought on by the Jan. 12 disaster, which killed more than 200,000 people.
While the camps blossomed, officials debated what to do with the 1.2 million people left homeless by the disaster nationwide.
In the meantime, people are planning to stay in some very dangerous places: at the bottom of hillsides they know will collapse in a heavy rain or near riverbeds that are bound to flood. They are crowded into polluted areas where sanitation is limited and disease is already starting to spread.
"The government has said for weeks that they have identified sites, but time is getting short and there has been little progress," said Ian Bray, an Oxfam spokesman.
And the delay has caused complications, as evident on a former landing strip-turned-boulevard called Route de Piste, where a cluster of ramshackle villages has taken root.
Row upon row of corrugated tin and wood shacks stand against the wind as dusty men walk between them carrying saws and hammers.
Children look for the snow cone man at the crossroads, near where a lottery dealer named Max has set up his booth. In a shack marked "Boulangerie Pep La" — the people's bakery — the smell of dough wafts from the oven.
The new neighborhood is very densely packed; some 27,000 people live there, according to Haitian Red Cross workers. U.N., foreign and local officials are directing aid to the site, while also designating it a "priority for decongestion" — meaning some people must move out.
The overcrowding is a chief reason officials say they don't want to give people the waterproof tents. But people in the shantytown are making their own space, pushing out neighbors who arrived later so as to expand their tarp-and-pole shelters into more permanent homes.
And people simply do not want to go far from where they always lived and worked. With property hard to come by, aftershocks continuing and 38 percent of Port-au-Prince's buildings destroyed by the magnitude-7 quake, according to U.N. satellite imagery, their options are limited.
On Thursday, a group of U.S. senators sent a letter to President Barack Obama urging the immediate relocation of displaced Haitians to higher ground before the rainy season begins in earnest.
"Tragedy will strike again when the rain comes. We urge your administration to stress this point with President (Rene) Preval and Prime Minister (Jean-Max) Bellerive," they wrote.
Senators George LeMieux and Bill Nelson of Florida, Frank Lautenberg of New Jersey and Amy Klobuchar of Minnesota also encouraged long-term investment, micro-loans for small businesses and seeding commerce outside Port-au-Prince.
Meanwhile eight of the 10 American missionaries detained while trying to take 33 Haitian children into the Dominican Republic without adoption certificates arrived in Miami late Wednesday night.
The two remaining detainees, Laura Silsby and Charisa Coulter, went to a Port-au-Prince courthouse on Thursday to be questioned by the judge but Judge Bernard Saint-Vil said he had to cancel the session because the translator didn't show up.
"Everything is going well," Silsby told reporters, though she added, "I don't know the exact day we are going to be free."
Coulter, who has diabetes and was taken to a hospital the previous day, said she was feeling better.
Defense lawyer Aviol Fleurant said the judge rescheduled the questioning for Friday and was seeking to arrange a visit to the orphanage that Silsby, the missionary group's leader, had hastily arranged in Cabarete in the Dominican Republic.
___
Associated Press Writer Evens Sanon contributed to this report.