Haiti-earthquake: more than 300,000 people have received tents Haiti:
Approximately 330,000 people, about 66,000 families have received tents and tarps to protect themselves in the temporary shelters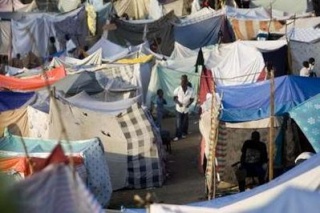 erected in the refugee camps in Haiti, about two months after the earthquake that ravaged the country said the United Nations in a report.
The earthquake of January 12 could have been up to 300,000 dead according to Haitian President René Préval, has thrown some 1.2 million Haitians in the street.
According to the Office for the Coordination of Humanitarian Affairs (OCHA), most IDPs living in tent camps erected in public parks or spaces flood representing a potential hazard when it starts to rain.
"Distribute Articles impervious to people living in the camps is the main priority of humanitarian agencies on the approach of the rainy season, said Monday UN officials at a news conference.
Nearly 900,000 Haitians are still waiting for tents promised by the international community and the government has made the delivery of temporary shelters a priority, had in turn said Saturday Haitian President René Préval.
Thanking the international community's efforts to help Haitians, Préval has indicated that more than a month after the earthquake, "only 24% of the 1.2 million IDPs were in a tent.
"It is urgent today than those in the streets, exposed to the elements (...) find shelter immediately," still had hammered Mr. Preval.
OCHA said that over 560,000 people lived in more than 330 camps in Port-au-Prince. 21 overcrowded camps with a total of 180,000 occupants must be congestion, recommended the organization.
The UN agencies have also ensured that they provided 5 liters of water per day to over 910,000 people on a total of 1.1 million set in Port-au-Prince and in the towns of Jacmel and Leogane very affected by the earthquake.
Moreover, the World Food Program (WFP) has been used as a food ration to more than 3.8 million people in regions devastated by the earthquake of January 12.
Source: Lenouvelliste (French)
Levanjiltv: English Translation