Moving tribute to the UN in its 101 employees killed by the earthquake in Haiti Haiti:
The UN has delivered Tuesday in New York a moving tribute to their 101 employees killed by the earthquake of January 12 in Haiti, the deadliest event for UN staff since its inception in 1945.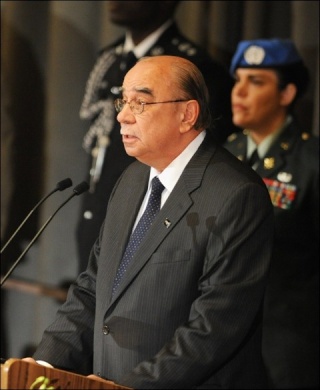 "Today, we commemorate the greatest loss in one event by the UN in its history," said the secretary general, Ban Ki-moon, who could hardly restrain her tears at a ceremony attended by families of victims, the UN staff and diplomats.
These victims were mostly members of the UN Mission for Stabilization in Haiti (MINUSTAH).
In total, over 222,000 persons have been killed by the earthquake of magnitude 7, which has devastated the country, the poorest in the Americas, January 12. Some 1.3 million people are homeless from the disaster.
"We honor 101 unique destinies are joined in Haiti to write the history of the United Nations," Ban said. "To those we lost, we say we will never forget you. We will continue your work.
The UN chief then requested a moment of silence before we proceed to reading the names of 101 victims.
Source: Lenouvelliste (French)
Levanjiltv: English Translation