Tornadoes rip up homes in Arkansas (CNN) --
A tornado watch was lifted for Arkansas early Thursday after a series of powerful tornadoes ripped through dozens of homes, critically injuring two people.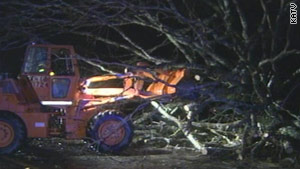 The first twister struck in Saline County in central Arkansas at 7:28 p.m. ET Wednesday, the National Weather Service said. The tornado damaged 22 homes, an Arkansas Emergency Management spokeswoman said.
A woman in the area said she could hear the storm roaring as it approached the area.
"It was the awfulest roaring I ever heard in my life," the woman told CNN affiliate KTHV. "My house felt like it was fixing to crumble over me."
Another tornado struck north of Saline in White County at 9:25 p.m. ET, the weather service said. That storm damaged 9 homes and injured one person.
A third tornado struck in nearby Cleburne County at 10:05 p.m. ET. Emergency officials were still trying to determine the full extent of the damage hours after the twister hit the area. Several homes were damaged or destroyed and three people were injured. Two were critically injured, said Renee Preslar, spokeswoman for the Arkansas Department of Emergency Management.
Along with tornadoes, central Arkansas was raked by powerful thunderstorms and golf ball-size hail, the National Weather Service said.
"The storm seems to be shifting to the east so the severe weather should be out of this area by [Thursday]," said John Lewis, a senior forecaster with an Arkansas office of the National Weather Service.
A tornado watch that had been in effect for Arkansas was lifted early Thursday morning. But a tornado watch had been issued for most of Mississippi and parts of Tennessee and Kentucky, forecasters said.
Source: CNN.com