College Bird in Haiti welcome the students
Two months after the earthquake of 12 January, schools in the capital are starting to accommodate their students. Tents. If this is not the reopening of classes, this comes as part of a psychosocial support program for students before the reopening of classes.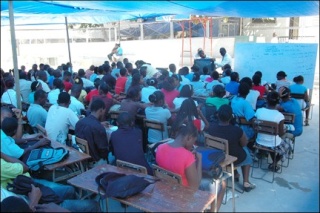 Haiti: The students of 6th and 9th grade and fundamental than political rhetoric and philosophy of New College Bird of Port-au-Prince, who prepare their exams official parade since Wednesday, March 10 at the premises of this institution, some parties collapsed Tuesday, January 12. This is not the resumption of classes, but it is a psychosocial support to sustain the morale of the students and keep their minds fixed on the school after the tragedy. Officials, however, provide the grand reopening for April 5 next.
This Monday, March 15, they were more than 200 students from 6th, 9th year, Rhaeto and philosophy, installed under a large tarp on the field of basketball that college. Some argue, laugh, others tell their friends - they apparently have not seen since January 12 - how they lived the drama or how they were able to escape. Others watch a movie by school officials as part of their psychosocial program. In the courtyard of the school, parents come with their children, meanwhile, commented on the news.
"How and where the majority of schools in Port-au-Prince will they be able to accommodate their students? asks a woman who expects her daughter. Until now, it has not finished clearing the majority of schools in the capital and we talk daily to reopen classes for the beginning of April, "says she.
"In any case, schools can not keep their doors closed forever, responds to his hand, a man who accompanies his daughter to New College Bird. We must come to terms with all the means available for schools in Port-au-Prince and those of provincial towns which were affected by the earthquake are reopening, "said he.
Indeed, it should be noted that many students who have moved in different towns not affected by the earthquake are greeted by public or private schools in these regions. They may have made a good choice, given that most schools in the capital did not have enough space to accommodate their students if the return would be in tents. Other students, meanwhile, on request of their parents are still waiting for their institutions in the capital reopened their doors to head back to school.
Until now, there is no official date for the reopening of classes, even if the April 5 runs. In this regard, the UN had said that a full assessment of damage recorded in the education sector should be done, and this, in several regions. And at the end of February, the President of the Republic, René Préval, has announced the reopening of classes soon, even if it was to be in tents.
Source: Lenouvelliste (French)
Levanjiltv: English translation