Palestinians clash with Israeli securityJERUSALEM
– Palestinians in east Jerusalem and the West Bank lobbed rocks at Israeli security forces, set garbage bins and tires ablaze and torched an Israeli flag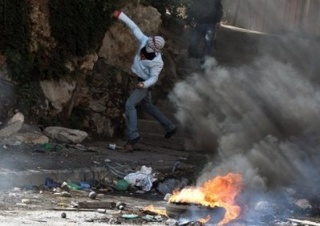 in a new outbreak of violence over contested Jerusalem building plans and unsubstantiated rumors about threats to the city's holiest shrine.
Israeli forces responded with tear gas and stun grenades, but no serious injuries were reported.
More than a week of violence in east Jerusalem has coincided with the worst U.S.-Israeli diplomatic row in decades, which erupted after Israel announced new plans to build 1,600 apartments in east Jerusalem during Vice President Joe Biden's visit. The plans, which challenge Palestinian claims to the traditionally Arab eastern sector of the city, also drew condemnation from the U.N. and European Union.
Friday's clashes were most serious in the West Bank town of Hebron, where about 60 protesters faced off against Israeli soldiers. Hebron has been in ferment since last month, when Israeli Prime Minister Benjamin Netanyahu designated a disputed shrine there a national heritage site.
There were also sporadic, low-level clashes at a small number of other points in the West Bank and east Jerusalem.
In Moscow on Friday, the Quartet of Mideast peacemakers — the U.S., U.N., EU and Russia — reiterated their condemnation of the planned east Jerusalem construction but did not escalate their criticism of Israel.
In other fallout, the pan-Arab Al-Hayyat newspaper reported that Egyptian intelligence chief Omar Suleiman met with an adviser to Israeli Prime Minister Benjamin Netanyahu, Uzi Arad, to warn that Israel's conduct was liable to ignite another regional conflagration. Israel confirmed that Arad was in Cairo but did not provide further details.
Netanyahu called U.S. Secretary of State Hillary Rodham Clinton on Thursday promising unspecified confidence-building measures toward the Palestinians. His office refused to say whether building in east Jerusalem would halt as Clinton has demanded.
Israeli Foreign Minister Avigdor Lieberman was in Brussels Friday, where he was to have taken part in an official meeting between the EU and Israel, but the talks were abruptly called off.
EU spokeswoman Cristina Gallach said Lieberman was supposed to attend an EU-Israel committee meeting on Monday, but it was postponed until next month because EU foreign policy chief Catherine Ashton had just visited Israel and Gaza this week. Gallach denied the postponement was a snub, but the move came as EU-Israeli ties are under increasing strain.
Palestinians claim east Jerusalem for the capital of a future state. Netanyahu objects to partitioning the city. Washington and the rest of the international community does not recognize Israel's annexation of east Jerusalem after the 1967 Mideast war and views the Jewish neighborhoods there as settlements like those Israel has built in the West Bank.
Since last week, violent protests have erupted several times in Palestinian neighborhoods of Jerusalem where residents are angry over both the new Jewish housing plans and rumors that Jewish extremists are plotting to take over an Old City site that is holy to Muslims and Jews.
The hilltop compound, known to Muslims as Noble Sanctuary, is home to the Al-Aqsa mosque compound, Islam's third-holiest shrine. The complex, known to Jews as Temple Mount, is Judaism's holiest site because the biblical Jewish temples once stood there.
In other violence Friday, dozens of Palestinians and their supporters protesting Israel's West Bank separation barrier threw rocks at soldiers in two West Bank towns, Bilin and Naalin. Troops responded with tear gas and stun grenades. No injuries were reported.
Militants in Gaza, meanwhile, fired a rocket at southern Israel on Friday, a day after a rocket killed a Thai worker in the first deadly attack on Israel since last year's Gaza Strip war. No one was injured in Friday's rocket fire and no group immediately claimed responsibility.
Source: Yahoo/ AP